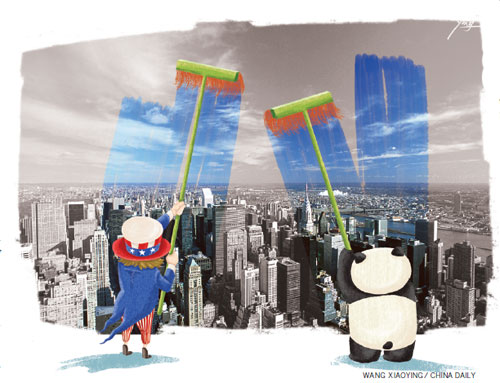 It is unrealistic to use one meeting, the Paris Climate Change Conference in this case, to bridge the wide gap between developed and developing countries' interests and positions, which transform into differentiated responsibilities in the fight against climate change.
By issuing a joint statement with the United States on climate action in November 2014, China made clear its determination to combat climate change. It has set up a 20-billion yuan ($3.33 billion) cooperation fund to help the least developed countries adapt to and fight climate change.
According to the joint statement, China plans to cut its carbon dioxide emission per unit of GDP by 60-65 percent by 2030, when its emissions will peak, from the 2005 level. And the US intends to cut 26-28 percent of its emission in 2025 from the 2005 level.
This shows China and the US have the potential to form a "Group of 2" to promote global governance on climate issues. But for that, the US has to look beyond its narrow interests and provide the developing world with public goods, services and technologies.
The US has promised to "mobilize" other developed countries to raise $100 billion to help the developing countries cope with climate change. Yet few developing nations have received fund or technology assistance.
The US is in a much stronger position than China, in terms of economy and environmental protection measures, to combat climate change. Yet the achievement list of the China-US Strategic and Economic Dialogue in June shows just strategy making and implementation: China is ready to learn from US technologies, laws and management rules, while the US urges China to shoulder more global responsibilities and open its "green market" to the US.
But the US focuses on verifying China's implementation results, without granting China the necessary means to examine to what degree the US has helped it to combat climate change. This is certainly not what cooperation is about.
China lags behind the US in scientific and financial ability to fight climate change. And without advanced scientific knowledge and first-hand information on the changing climate and emissions, a country cannot fully deal with climate issues.