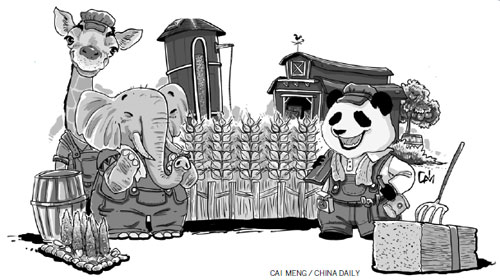 Some breakthroughs are expected to be achieved at the Forum on China-Africa Cooperation, which starts on Friday in Johannesburg, where Sino-African cooperation in agriculture is expected to be high on the agenda.
China attaches great importance to agricultural cooperation to boost its relations with Africa. The new Chinese leadership has placed cooperation with Africa at a higher strategic level and intensified its exchanges with the continent.
President Xi Jinping visited three African countries in March 2013, and propounded some new principles for China's Africa policy, whose core purpose is to combine helping Africa realize economic independence, self-reliance and sustainable development with China's development.
During his visit to Africa in May 2014, Premier Li Keqiang, too, put forward a framework for Sino-African cooperation which focuses on industrial cooperation as well as cooperation in finance, poverty alleviation, environmental protection, personnel exchanges and security to upgrade China-Africa relations.
At the UN summit on development in September, President Xi announced the establishment of a fund to help South-South cooperation and increase China's investment in least-developed countries. And at the roundtable conference for South-South cooperation, Xi announced a five-year assistance project for Africa. The project includes poverty alleviation, agricultural cooperation, trade promotion, environmental protection, and the establishment of a number of hospitals, schools and training centers to help African countries boost their economic development and improve people's livelihoods.
And at the Johannesburg forum, China is expected to offer more assistance to African countries to boost their rural and agricultural development.
Africa's development momentum and the increased importance African countries attach to agriculture will create more opportunities for agricultural cooperation with China. The remarkable progress African countries have made in maintaining political stability, reducing regional conflicts, and promoting social and economic development means they want to pursue development through solidarity. Besides, Africa's 5.5 percent growth rate has made it the fastest growing region after Asia.