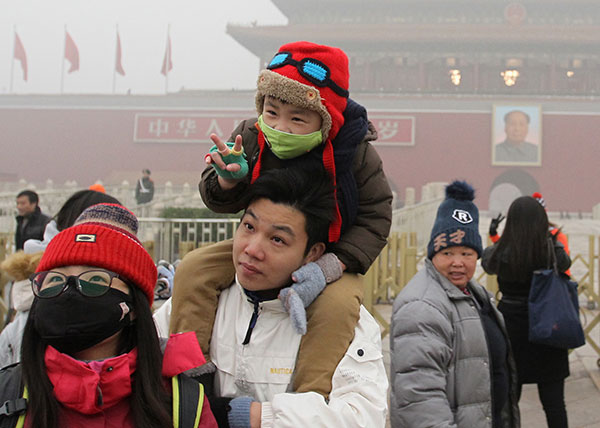 Tourists visit Tian'anmen Square on Tuesday as the city experiences its most severe smog this year. ZHANG WEI/CHINA DAILY
This year's worst air pollution in Beijing once again demonstrated the necessity for China to address its environmental challenges with immediate and unprecedented efforts.
For a vast developing country like China to succeed in the war against pollution, it requires not only firm and long-term government commitments to reduce all kinds of pollutants but also efforts to rally as much public support as possible.
Chinese cities such as Beijing, which have benefited a lot from the country's rapid urbanization and industrialization over the past decades, are therefore obliged to blaze a trail in mobilizing and making the most efficient use of their resources to cut pollution and minimize the environmental damage.
Unfortunately, the clumsy and inadequate response of local officials to tackle the persistent toxic air that soared above hazardous levels for several days in Beijing indicates the country still has much to do to make itself a smart fighter in the environment crisis.
The arrival of a cold front on Tuesday night may have answered the wishes of the 20-plus million residents who desperately wanted the hazardous smog that had engulfed the city for days to go, but it is proving an uphill struggle to tackle the causes.
The explanation offered by the Beijing Municipal Environmental Monitoring Center that increased use of coal for heating during winter and an unfortunate combination of weather conditions that helped trap pollutants closer to the ground have been the main factors behind the frightening levels of PM2.5, airborne particles that measure less than 2.5 microns in diameter.