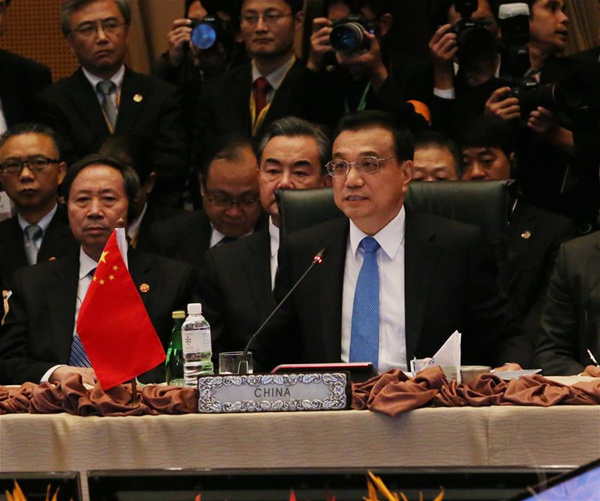 Chinese Premier Li Keqiang addresses the 18th ASEAN-China summit in Kuala Lumpur, Malaysia, Nov 21, 2015. [Photo/Xinhua]
Just a few days after President Xi Jinping returned from the APEC economic leaders' meeting in Manila, Premier Li Keqiang attended the 18th China-ASEAN (10+1) Summit, the 18th ASEAN Plus Three (10+3) Summit and the 10th East Asia Summit in Kuala Lumpur.
Cooperation between China and the Association of Southeast Asian Nations has always been a vital topic at these annual meetings. And the two successive trips made by China's top leaders to Southeast Asia signify the increasing importance of ASEAN in regional politics as well as in China's diplomatic strategy.
The ASEAN-related meetings and the EAS are expected to further boost cooperation between China and ASEAN, which in turn will help the implementation of China's Silk Road Economic Belt and 21st Century Maritime Silk Road proposals, also known as the Belt and Road Initiative, to the benefit of the entire region. Regional cooperation can be deepened also by implementing the Phnom Penh Development Declaration, which was adopted in November 2012.
More importantly, China and ASEAN are expected to conclude the talks on upgrading the China-ASEAN Free Trade Area. Since China is already ASEAN's largest trade partner while ASEAN is China's third-largest, an upgraded FTA will increase their importance for each other on the trade map.
That would be in conformity with what President Xi said in his speech at the APEC meeting, in which he emphasized the importance of deepening regional cooperation through the Belt and Road Initiative. Xi also laid stress on promoting interconnectivity both among ASEAN members and between the trade bloc and other economies through the China-led Asian Infrastructure Investment Bank.
These moves are of special strategic significance to China because ASEAN occupies a key point on the Belt and Road Initiative. As neighbors, ASEAN member states have also forged many cooperation programs with China, including those on the cultural, scientific and environmental protection fronts.