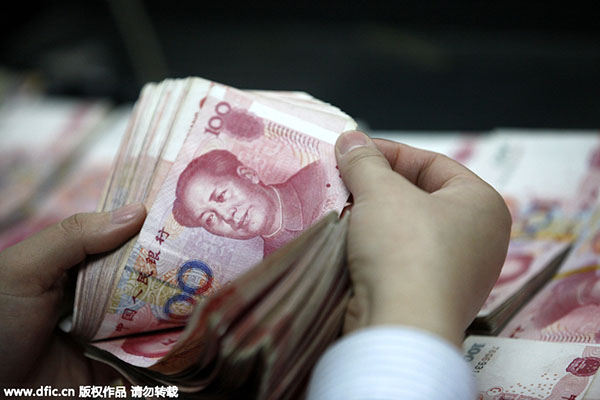 A Chinese clerk counts RMB (renminbi) yuan banknotes at a bank in Huaibei city, East China's Anhui province, January 22, 2015.[Photo/IC] 
On Tuesday, the Ministry of Finance posted on its website an article about what it has done this year to maintain economic growth. At a time when China's economic slowdown seems wider and deeper than expected, this supportive fiscal measure reminds us of the government's acts and determination to overcome the economic difficulties.
In a speech at Summer Davos, the World Economic Forum in Dalian, Northeast China's Liaoning province, on Thursday, Premier Li Keqiang said a more encouraging sign is that China's economy is more oriented toward consumption, which accounts for half of China's economic output and 60 percent of growth.
However, if China is to expedite the economic transformation in order to reduce its reliance on fixed-asset investment and export growth and, further, boost consumption and innovation to drive sustainable growth, policymakers need to stay focused on implementing the consumption-related tax reforms under consideration.
Buried deep in the to-do part of the job list the Ministry of Finance has released is a brief mention that it would reform the consumption tax and give due consideration to reforming the personal income tax regime.
The fact that China's tax revenues increased only 4.5 percent year-on-year in the first seven months of this year, the slowest growth since 2010, indicates there is not much room for reducing taxes right now.
Yet China can hardly afford to wait any longer for a big tax boost for consumption growth as its economic transformation enters a crucial stage when traditional growth engines like investments and exports are losing steam and the increasingly obvious potential of consumption-led growth has not been fully tapped into.