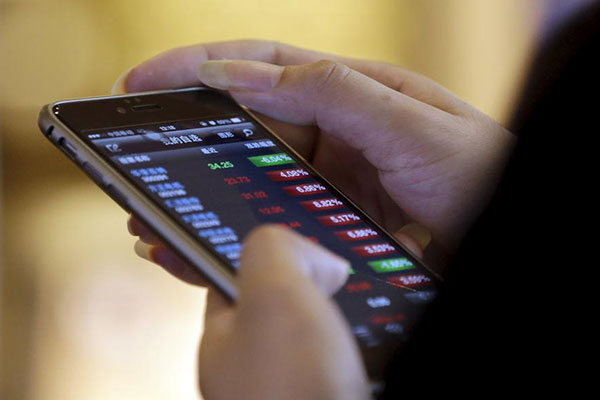 A man checks share prices on his mobile phone while waiting for his coffee at a Starbucks branch in Beijing July 16, 2015.[Photo/Agencies]
BEIJING - Chinese investors holding a stock for more than one year will be exempted from a 5-percent dividend tax from Tuesday, authorities said.
Those who have held a stock for one month or less will have to pay 20 percent of the dividend they receive as income tax when they sell the stock, the Ministry of Finance said Monday in a statement jointly released with the country's taxation authority and the securities regulator.
People who have held a stock for over one month to one year will have to pay a 10 percent dividend tax when they sell the stock, the statement said.
This move is part of the government's efforts to promote long-term investment following a stock market rout since mid-June.
The Shanghai Composite has plunged more than 40 percent from a peak seen on June 12.
The benchmark Shanghai index slid 2.5 percent as stocks retreated on Monday after the government announced its plan to introduce the circuit-breaker mechanism intended to reduce extreme market volatility.
The Composite Index closed at 3,080.42, down 79.75 points, after swinging as much as 151.28 points, while the Shenzhen Component Index edged down 0.6 percent to close at 9,991.76.
The securities watchdog announced on Sunday evening that it is drafting a plan to implement the circuit-breaker mechanism, where stock exchanges would temporarily halt trading to avert panic selling after the stock index has fallen a certain percentage.