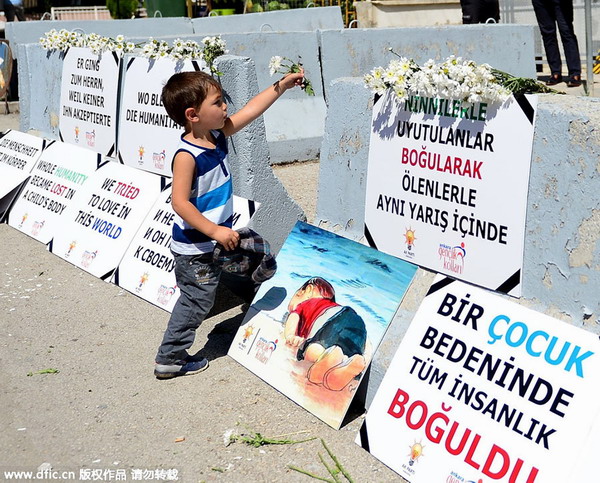 A child leaves flower in front of the UN House in capital Ankara when Youth Section of Justice and Development Party hold a sit-in protest on Sept 3, 2015 to demonstrate the death of Syrian refugee child drowned in Aegean Sea.[Photo/IC]
The photograph of 3-year-old Aylan Kurdi who drowned along with his 5-year-old brother and their mother during his family's failed bid to flee civil war-torn Syria to Europe has pricked the world's conscience. Partly in response to the global outcry over the refugee issue, Germany and Austria have opened their borders to accept more refugees from the Middle East.
Yet other European countries are still reluctant to take in the refugees. While France and Germany hope to "fairly divide" the refugees throughout the European Union, the Czech Republic and Poland say they are not responsible for the Middle East crisis and refuse to accept their share. The Czech and Polish governments blame the United States' Middle East policy for the crisis and demand that it take responsibility for it.
On the other side of the Atlantic, a White House spokesperson has admitted that "it's a genuine tragedy", but said the US has no plans to take in Syrian refugees.
It was the US and its allies that invaded Afghanistan and Iraq in 2001 and 2003, intensified conflicts in the Middle East leading to the "Arab Spring", "triggered" the civil war Libya in February 2011 and egged armed groups to take on the Syrian government in July 2011 that led to the civil war. As the civil war showed no signs of ending, the US adopted a new "pivot to Asia" and left the Syrians and Libyans to their fate. It also withdrew troops from Iraq, handing over the reins of security to an untrained Iraqi military.
As a result of the chaos and power vacuum created by the US withdrawal from Iraq and the civil war in Syria, several extremist religious groups rushed in to the two countries, with the largest of them being the utterly violent Islamic State. The Syrian civil war has already claimed more than 220,000 lives, forced 2.5 million people to seek refuge in other countries and made millions more homeless.