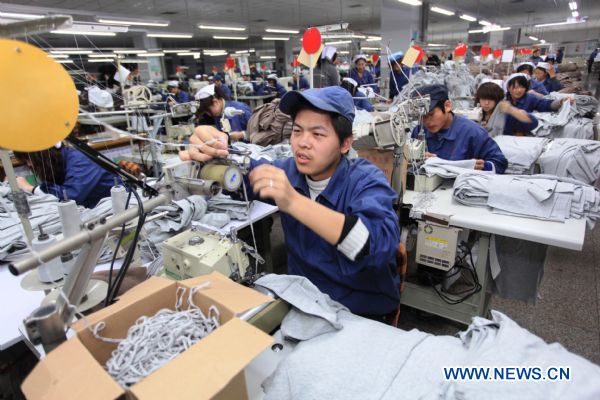 A male worker works on a sewing machine at the factory of a textile company in Qingdao, east China's Shandong province, Feb 19, 2011. After suffering heavy labor losses in recent months, female-dominated industries such as textile were forced to recruit male workers in hopes of cushioning themselves from an expanding labor shortage that has plagued China's industrial base along the eastern coast. [Photo/Agencies]
In a regulation that will come into effect in October, female employees in North China's Shanxi province who are diagnosed with menopausal syndromes yet show no obvious sign of recovery after treatment can apply for transfer to another position that better suits their condition. Comments:
Considering the physical and mental suffering endured by female employees during their menopause, the Shanxi government has included their rights in its local labor protection regulations, since these are not included in the country's Special Rules on the Labor Protection of Female Employees. It is undoubtedly a big step forward in terms of governance and human concern, and is praiseworthy.
rednet.cn, Aug 31
This regulation is intended to better protect female employees. However, doubts have emerged on the Internet, with many fearing it may be difficult to implement in reality or questioning whether it will be reduced to a privilege for a small group of people.
Beijing Youth Daily, Sep 1
There could be a potential problem in effectively implementing the regulation. The local labor unions should negotiate with employers to properly solve the transfer requests of female employees, and the labor inspection department should also urge employers to raise their sense of responsibility in protecting female workers and put such awareness into practice.
Xin'an Evening News, Aug 31
The implementation of the regulation will inevitably lead to some employers refusing to recruit older women, which will add to their difficulties changing or getting a job. Therefore, apart from strictly implementing the regulation, what the local government should also do is to provide necessary policy and material support after taking the practical situation of employers into consideration.
gmw.cn, Aug 31