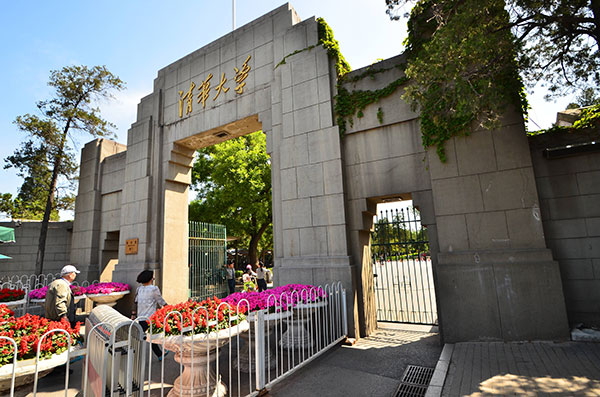 The western gate of Tsinghua University. The Beijing-based university has become the country's richest institution for higher learning with its annual revenues reaching 12.36 billion yuan in 2014. [Photo provided to China Daily]
According to the annual accounts for the 2014 fiscal year of 76 major domestic universities, the spending of Tsinghua, Zhejiang, Peking and Shanghai Jiao Tong universities exceeded 10 billion yuan ($1.56 billion) each. Tsinghua University's spending reached 17.56 billion yuan ($2.77 billion).
The universities' spending of more than 10 billion yuan on their running costs is a reflection that, in terms of fiscal input, they are approaching that of world-class ones. Sufficient fiscal input theoretically offers the basic guarantee that a university can conduct quality teaching and scientific research and raise its academic strength.
However, compared with the world's leading universities, domestic universities, even the powerful ones, still have considerable gaps in the structure of their fiscal input or in the efficiency of how they use the money. To be world-class universities, they still need to expand their funding sources and set up a mechanism that can ensure the proper use of every cent.
Published final accounts indicate that most domestic universities are heavily dependent on government funds, with money from other sources accounting for only a small part of their funding. This is in sharp contrast with prestigious foreign universities that also focus on diversifying their funding to ensure their independence.
The ever-growing final accounts among leading domestic universities are in essence closely related to the country's efforts to boost the development of higher education through increasing fiscal supports to chosen candidates. However, increased fiscal allocation from the government has also injected administrative factors in domestic universities and influenced their pursuit of independence from administrative influence.
Increased spending does reflect a university's power, but this is by no means a gauge of its academic capabilities. Only through creating a modern and sound financial system to prevent possible misuse of money, can the universities channel their funding to raise their academic capabilities.
The above is an abridgement of a Beijing News article published on Monday.