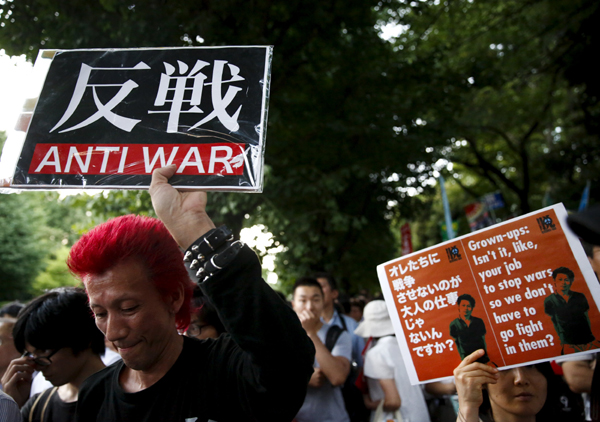 People hold placards during a rally against Japan's Prime Minister Shinzo Abe's administration and his security-related legislation in front of the parliament building in Tokyo July 15, 2015. [Photo/Agencies]
Despite strong protests, the lower house of Japanese parliament passed two contentious security bills last month that tilt the country more toward war than security. According to Japanese law, the bills will be legally effective after the second approval by the lower house even if the upper house rejects it. By railroading the bills through the bicameral parliament, Japanese Prime Minister Shinzo Abe has crossed the Rubicon.
Surveys show nearly 60 percent Japanese people are against the security bills, and more than 95 percent legal experts think the "right to collective self-defense" would be a violation of Japan's Constitution. But Abe and his supporters have already embarked on a road of no return.
Even 70 years after the end of World War II, Japanese people feel numb at the mention of war. So how did Japan change from an anti-nuclear-weapon, light-armored big economy to a country eager to send troops across the world? It seems the Japanese conservative politicians have been hatching this plot since the end of the Cold War. On the pretext of making Japan a "normal country", they want to overturn the postwar world order, incidentally shaped by the US.
Since Abe's clique doesn't have the courage to blame the US for their supposed woes, they are targeting China. Some Japanese media outlets have urged the government to form a "ring" around China. Along with Japanese Self-Defense Forces refocusing attention from the north to the southwest of the country, Abe's move to exercise the "right to collective self-defense" has made the region volatile for China. And this is just the beginning of the Abe clique's tricky moves.
The Abe administration may find some "shocking issues" to reset the agenda given Japanese people's opposition to the security bills. If China reacts angrily to Japan's provocative moves, Abe will conveniently use it as another "evidence" to label China a threat.
Forty years ago, many Japanese were active supporters of Sino-Japanese friendship. That may no longer be the case today, but still the large number of Chinese tourists who visit Japan every year and the Japanese students who come to study in China play important roles in deepening people-to-people understanding - and could help improve political ties.
As long as the Chinese society, political structure and economy are stable, Japan's aggressive tactics will not pose a real threat to China. Senior Chinese officials, thanks to their strong crisis awareness, know this but many ordinary Chinese don't.
China need not enter into an arms race with Japan but it has to more closely study Japanese military policies and strength, in order to better prepare for emergencies. History tells us that as long as China remains strong, Sino-Japanese relations will not be beset with unsolvable problems, because international relations are eventually decided by domestic strength.
Japanese society is aging fast, which is having an impact on its resources and finance. Perhaps this is behind Japan's hardball attitude in foreign affairs, and it will not change in the near future.
The other cause for the souring of China-Japan ties could be China's lack of in-depth and systematic research on Japan. Most Chinese people have the same opinion about Japan. If Chinese people know Japan well, many of them may adjust their views about the country and take different ways to get along with it.
It is also important for China to improve internal coordination on Japan. With so many people and organizations speaking - and many a time speaking differently - on Japan, the Japanese media and politicians interpret them in ways that suit their respective purposes. Moreover, China has to identify the core interests of its diplomacy vis-à-vis Japan, and untangle the complications.
The author is a professor at the postgraduate school in Kyorin University in Japan.
(China Daily 08/08/2015 page5)