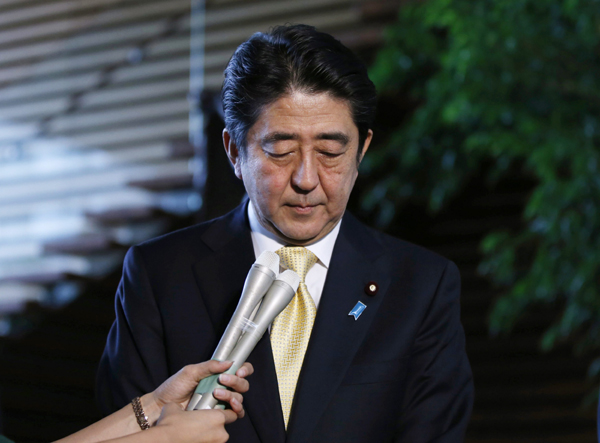 Japan's Prime Minister Shinzo Abe reacts as he speaks to the media at his official residence in Tokyo in this Oct 20, 2014 file photo. [Photo/Agencies]
In the last minute of the seminar in Washington on Tuesday, moderator, Victor Cha, an expert on the Democratic People's Republic of Korea at the Center for Strategic and International Studies and a former director for Asian affairs on the White House's National Security Council, asked the panelists to use one sentence to talk about Japanese Prime Minister Shinzo Abe's upcoming August statement on the 70th anniversary of the end of the World War II.
To me, that was a key question for the panelists to address because Abe's Aug 15 statement will be essential in helping nations in the region put the past behind them and move on.
The three panelists, all US experts on Japan, looked kind of embarrassed, as if it was the toughest question in the 75-minute talk. None of them actually touched on this issue by themselves, and now they all said they expected Abe not to break new ground but repeat what he has already said.
That is clearly not enough. While the revisionist Japanese prime minister may spend much time talking about Japan's contribution in the 70 years after the war, he should not and cannot avoid facing the past squarely at this critical time, given his many disturbing views and remarks on history. It is something the whole world is watching.
So far, Abe has only used vague language to say that he endorses the official statements made by his predecessors, but he has not gone nearly as far as the 1995 Murayama Statement when the then Japanese prime minister Tomiichi Murayama sincerely apologized for the Japanese aggression.
If words like "apology" and "aggression" are still taboos for Abe to describe WWII, then his statement next month will be a humiliation to the millions of Chinese, Koreans and people of other nations who suffered from Japanese militarism before and during WWII.
Over the years, Abe has questioned whether Japan's actions in WWII constituted aggression and whether Japanese government and military coercion was involved in the "comfort women". In April last year, he sent a message to an annual ceremony honoring Class-A war criminals, saying "(they) staked their souls to become the foundation of their nation".
Some latest developments in Japan are equally troubling. Abe's revisionist historical views aside, he has actively pushed for changing Japan's pacifist Constitution, an increase in its defense spending and a hard line in territorial disputes with China and South Korea.
And the revision of high school textbooks reviewed by the Education Ministry in April further plays down the details of Japanese war atrocities, exactly the opposite of what the Japanese government should be teaching young Japanese about the war.
One textbook dropped a passage which said Japan "came under international condemnation" for slaughtering many Chinese during the 1937 Nanjing Massacre. The other added "no proof of forced abduction has been found" in a passage on the women forced into sexual slavery.
James Schoff, a senior associate of the Asian Program at the Carnegie Endowment for International Peace, voiced his concern over the textbook revision when I chatted with him after Tuesday's talk. He believes that compared with Germany, a less than complete purging of people involved in WWII atrocities and a lack of truth-seeking has contributed to such problems in Japan. In Germany, there has been real national soul-searching and people have learned the truths about that period in their nation's history.
Chinese leaders have repeatedly noted the importance of both facing the past truthfully and looking to the future in dealing with the China-Japan relations. Now it is up to Abe whether he truly wants reconciliation with Japan's neighbors by making an honest statement in August, instead of repeating his half-hearted rhetoric.
The author is deputy editor of China Daily USA. chenweihua@chinadailyusa.com