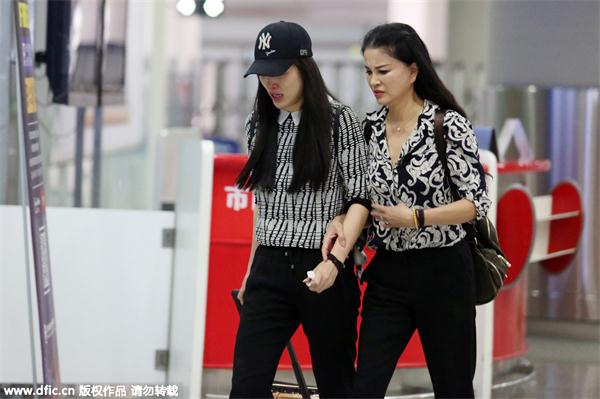 Chinese actress Ge Tian, ex-wife of retired Chinese hurdler Liu Xiang, left, accompanied by her mother, walks at the terminal of the Beijing Capital International Airport after arriving in Beijing, China, 25 June 2015. [Photo/IC]
The recent announcement by the celebrity couple Liu Xiang and his wife Ge Tian that they are divorcing just nine months after they married, has sparked intense discussion about the high divorce rate among those born after 1980.
The latest statistics released by the Ministry of Civil Affairs seem to justify concern. According to its data, 3.64 million couples registered for divorce in 2014, an increase of 3.9 percent from the previous year, and among them more than 40 percent had been married for no more than three years.
The statistics also indicate that a year after the promulgation of the marriage registration ordinance by the State Council in 2003, which considerably simplified divorce procedures, the number of divorces increased to 2.56 among every 1,000 couples.
Aside from simplified divorce procedures, the rise of women's social status and their growing economic independence have also increased their willingness to say goodbye if they feel dissatisfied with their spouses.
But it is also worth noting that along with the high divorce rate for post-1980 couples, there is also a higher remarriage rate. A lack of confidence in their spouses does not mean a lack of confidence in marriage itself.
A rising divorce rate alone would indicate a dissatisfaction with the institution of marriage, but the high percentage of people remarrying after a divorce suggests that it is the pressure applied to young people by parents and society to get married before they are really ready that is to blame.
However, while acknowledging people have the right to seek a better life, it should be remembered that it takes two to tango. To make a marriage work both parties need to demonstrate tolerance, empathy and a sense of responsibility, and not just talk but also listen.
The above is an abridgement of a China Youth Daily article published on Tuesday.