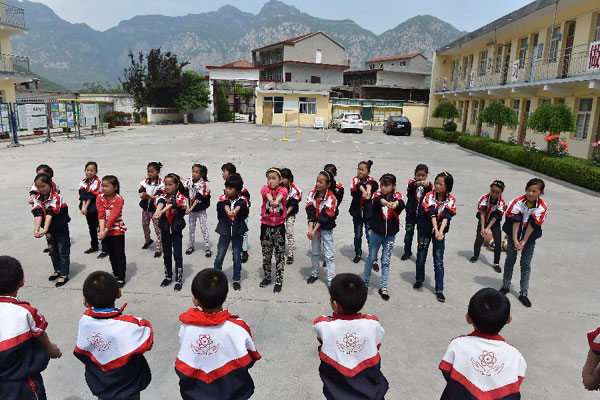 Boarders have a PE class at the primary school of Shicheng Township of Pingshun County, north China's Shanxi province, May 26, 2015. The children in the school are mostly left behind children whose parents work outside of their hometown. [Photo/Xinhua]
As the tragic story of the four children who died in Bijie, Southwest China's Guizhou province, last week unfolds in the media, it is clear that all of us need to do more to help the millions of children living in rural areas, especially those left behind by their parents in their search for better-paying jobs in cities.
Media reports say that the Bijie children who were compelled by circumstances to live alone also missed emotional support, parental guidance and protection of caregivers. With almost one in every four children in China facing such predicament, this has become one of the biggest challenges for rapid urbanization.
Many rural parents believe a job in a city will increase their incomes and help build a better future for their children. Although the prospects may be good in the long run, the short-term reality of being left in the care of grandparents in a village can be tough and complicated for children. Besides, for children who move to cities with their parents, the shift could be an alienating experience. Add to that the loss of traditional community support, and the discrimination and difficulties faced for getting into a school and you get a rough idea about such children's sufferings.
China has built a welfare scheme to help its poorest citizens. But the coverage of the scheme does not necessarily mean every poor family can access it, especially if a child is not registered or does not have a birth certificate, or if the family does not know about the scheme.
This is exactly where the "barefoot social worker" model - first used as a pilot in 2010 to help children affected by HIV/AIDS - can help. The project aimed to provide social welfare training for people who are part of the community, as opposed to sending already trained social workers from outside to help the community.
Since social work was a relatively new profession in China at that time, social welfare benefits might never have reached children in remote and rural areas if we had waited until a comprehensive professional scheme had been developed. That's why community members who had the basic knowledge of social work and child protection, and could navigate the system were chosen to carry out the job. This was a vital move because such people can identify the children most in need of help.
The "barefoot social worker", introduced by the Ministry of Civil Affairs, with the support of United Nations International Children's Emergency Fund (UNICEF) and other partners, was modeled on China's primary health revolution in the 1960s and 1970s when "barefoot doctors" were sent across the country to vaccinate children, which dramatically reduced the child mortality rate.
The "barefoot social worker" scheme was initiated in 120 pilot villages in five provincial-level regions in 2010 and targeted 80,000 children. Five years on the results are clear: more children have been registered, accessing social welfare, and assistance and protection services, and more children are in school and getting emotional support through weekly visits by a friend-cum-mentor.
The good news is that the Ministry of Civil Affairs is convinced this is an important initiative that has helped the government fulfill its commitment to the poorest and most vulnerable children under the Convention on the Rights of the Child.
The challenge now is how to strengthen and expand this model and send "barefoot social workers" in larger numbers across the country to extend help to children in the remotest areas. Finding the funds to scale up initiatives aimed at helping children can often be challenging, especially if such benefits are harder to quantify as compared to a new road. Yet it is critically important to society's well-being.
The author is the dean of Beijing Normal University's China Philanthropy Research Institute.
(China Daily 06/17/2015 page9)