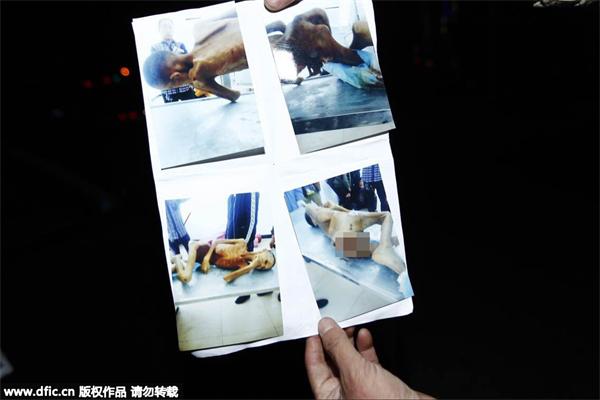 A family member shows photos of the mentally disabled nine-year-old boy skin and bone after he had gone missing from his home six months ago and died at a shelter for the homeless in Xinyang city, central Chinas Henan province. [Photo/IC]
The local government said that the death of a 13-year-old boy in Xinyang, Central China's Henan province, who went missing six months ago and reportedly died of severe malnutrition and tuberculosis in April, was 70 percent his own fault. The remaining blame, it said, should be divided equally between the orphanage that was supposed to care for him and his parents. Comments:
His guardians and any other parties concerned are responsible for the death of the 13-year-old juvenile with mental health problems, or in legal terms, a person without, or with limited, capacity for civil conduct. With regards to the boy's physical condition, those local departments that failed to fulfill their duty of care should be held accountable on charges of dereliction of duty. The responsibility distribution announced does not match what the previous investigation said.
Beijing News, June 10
The teenager who starved to death was by no means responsible for his own death. Given such a brutal fact, the so-called responsibility division is appalling because it reveals the authorities' attempt to avoid or reduce their obligation to pay compensation. It is thus not a matter of the lack of law-related knowledge but of ethics.
rednet.cn, June 10
To deal with the aftermath of a scandal in which the local government was involved, sincere efforts should be made to amend the government's credibility in accordance with relevant laws. Sadly, the released compensation plan is far from satisfactory and may even bring another crisis to the local authorities. The biggest challenge of all will be faced by the local court if the boy's parents refuse the money and resort to judicial remedy.
Beijing Times, June 10