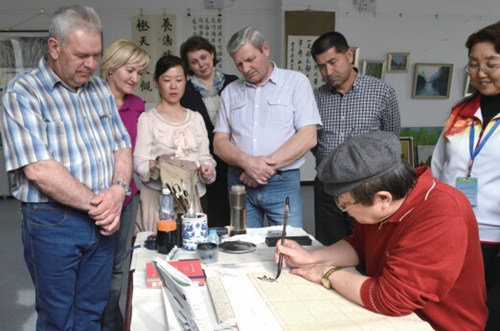 Delegates from Iskitim, Russia visit the calligraphy studio of the Karamay Senior Center in Karamay, Xinjiang Uygur autonomous region on April 28. [Photo/epaper.kelamayi.com.cn]
A recent report published by Shanghai University of Finance and Economics indicates that 54.6 percent of the elderly in China's rural areas still engage in occupational work and more than 60 percent live alone at home, with young people pursuing a better life in cities.
Such a large proportion of "left-behind" elderly in rural areas poses a severe challenge to the country, which must address its ageing society and create conditions to help senior people live their lives in dignity.
According to some analyses, the consumption potential from China's elderly population will grow from 4 trillion yuan ($644.8 billion) in 2014 to 106 trillion yuan by 2050. However, there are only 26 beds for every 1,000 senior people at nursing homes offering special care to senior citizens nationwide. Such a wide gap means there is huge pressure on the country's existing care facilities for the elderly but also enormous potential for the provision of care services for senior citizens.
Except for medical care that is basically accessible to the elderly, other indicators for the ageing society in China fail to reach expected standards. To tap the economic potential of the "gray society", both the visible and invisible hands of the market should be better used. The government should continue increasing its fiscal inputs or subsidies for nursing homes for the elderly, as well as a multi-level and diversified system of services for the aged. At the same time, private companies should be encouraged to enter the market on a commercial basis.
To live in dignity, senior people need not just sufficient material conditions, but also a rich spiritual world, including being integrated with the rest of the society. This highlights the need for joint efforts from both individuals and society to achieve this.
The above is a People's Daily article published on Wednesday.