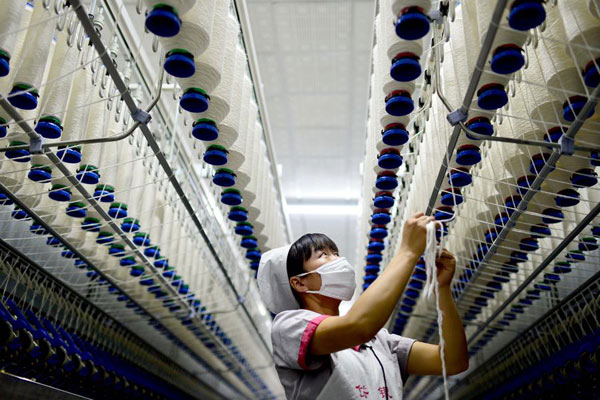 A worker at a textile company in Shandong, Oct 21, 2014. [Photo/Xinhua]
It is true that the Chinese economy is slowing in a way that might be making its economic transformation towards steady but sustainable growth more painful than expected.
However, the difficulty in advancing reforms does not negate the necessity of them.
Looming deflation pressures and declining trade have definitely troubled the world's second-largest economy as it struggles to pursue quality and innovation-led growth. China's consumer price index, a main gauge of inflation, grew 1.2 percent year-on-year in May, adding to concerns that downward pricing pressures may discourage consumption and investment to further hurt growth. After registering a 7.4-percent increase in 2014, the weakest annual expansion in 24 years, China's gross domestic product growth in the first quarter of the year further eased to 7 percent.
Meanwhile, the latest statistics show, in the first five months of this year, the country's exports increased by only 0.8 percent while imports dropped by 17.2 percent year-on-year, with the volume of foreign trade down 7.8 percent.
Compared to previous years when the Chinese economy was soaring by double-digit growth on the back of breakneck investment and rapid growth in exports, the country's contribution to the global trade growth this year will be understandably much more limited.
But oversimplifying the correlation between the current decline in emerging markets' exports and China's ongoing economic slowdown as a sort of causation underestimates the complexity of the global recovery.
First of all, a careful reading of the growth prospect of the world economy is a prerequisite for serious assessment of the global trade situation.
Recognizing that "the economic recovery from the global financial and economic crisis that broke out in 2008 has been unusually weak," the Organization for Economic Cooperation and Development recently slashed its forecast for global growth to 3.1 percent this year, down from the 4.0 percent increase it projected in March.
If the growth of global trade, including emerging market countries' exports, has anything to do with the performance of the global economy, then one should not turn a blind eye to this OECD report that slashed its outlook for the United States, the world's largest economy, from 3.1 to 2 percent this year while lowering its forecast for China by two-tenths of a percentage point from 7.0 to 6.8 percent. It is not difficult to calculate which one will put a bigger short-term drag on the world economy and global trade growth.
Second, when examining the cause and consequences of the decline of emerging markets' exports, one must not ignore the sharp decline in commodity prices in the second half of last year.
The combination of lower prices of commodities and oil and the strong US dollar have played a key role in depressing the value of exports from emerging market countries that have suffered depreciation against the greenback, so there is little reason to list China as the major source of concern.
Third, when evaluating China's role to the global recovery, one should look at not only the short-term pain but also the long-term gain that the country's economic restructuring will bring about for itself and the world.
Actually, China bought more bulk commodities of crude oil and grain in the first five months, but imports of iron ore and coal shrank, with prices of major goods down. Imports of oil increased 4 percent year on year to 134 million tones, but iron ore lost 1.1 percent to 378 million tones, data showed.
Such changes might be early signs that the Chinese economy is shifting away from its dependence on investment toward consumption-led growth. And if China's economic growth becomes more sustainable in coming years, there is really no need to exaggerate the current price we have to pay.
The author is a senior writer with China Daily.
zhuqiwen@chinadaily.com.cn