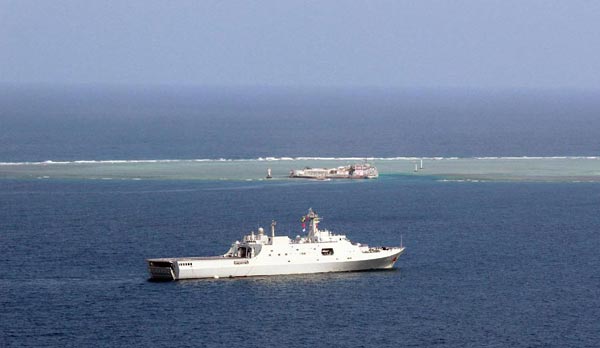 China firmly upholds her sovereignty and maritime rights and interests in the South China Sea. [Photo/Xinhua]
The visit of China's Central Military Commission Vice-Chairman Fan Changlong to the United States sends an unmistakable signal to the outside world that Beijing and Washington are keen on bolstering the current good momentum in bilateral military exchanges.
Fan's visit is also proof of the fact that despite twists and turns in bilateral ties the two countries have learned to defuse tensions at an early stage. He is the highest-ranking officer who has ever visited the US since China's leadership transition in 2012.
His visit has come at a delicate time as China-US relations are facing tensions in the South China Sea.
Washington has heightened its pressure on Beijing over China's island building in the South China Sea. It even sent a spy plane to monitor the work and vowed to continue doing so, a move Beijing deems as dangerous because it could lead to strategic misjudgment and even conflict.
Under such circumstances, the two sides obviously need a high-profile visit for in-depth discussions on their strategic intentions as well as issues of mutual concern.
Fan's itinerary includes visits to three US military bases and talks with high-level US officials, including a meeting with US Secretary of Defense Ashton Carter on Thursday, which demonstrates the resolve of the two militaries to deepen mutual trust and build up a cordial atmosphere for bilateral ties at large.
Upon his arrival in San Diego, California on Monday, Fan made a stop at the aircraft carrier USS Ronald Reagan. Considering that the nuclear-powered carrier is due to replace the USS George Washington at the US naval base in Yokosuka, Japan, the arrangement can be viewed as an effort by the two militaries to reduce strategic mutual distrust.
Yet despite the fact the two countries' bilateral military exchanges have been improving rapidly since 2012, there is no denying that mutual suspicion also runs deep. This is especially the case after Washington implemented its "pivot to Asia" strategy in recent years.
Washington needs to clarify that its military maneuvers in the Asia-Pacific are not aimed at trying to contain China. It should also recognize China's legitimate concerns over its territorial integrity in the South China Sea. For the positive momentum in bilateral military ties to continue, these are just some of the necessary steps Washington needs to take.