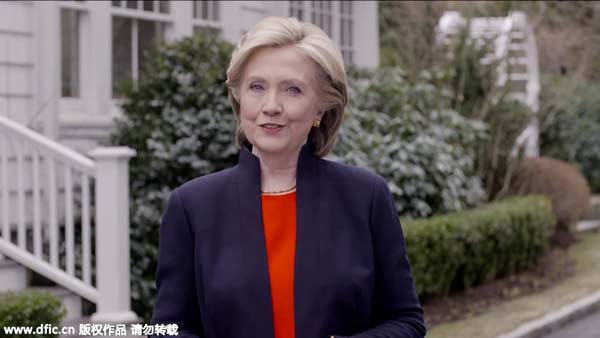 Video grab of Hillary Rodham Clinton announcing that she would seek the presidency for a second time, immediately establishing herself as the likely 2016 Democratic nominee, in Washington, DC, USA on April 12, 2015. [Photo/IC]
During my recent trip to Minsk, Belarus, I met with Jaroslav Romanchuk, economist and a presidential candidate in 2010. Since he lost the election to President Alexander Lukashenko, I wanted to talk with him to know what a politician not in power thinks about China.
Normally, in the West, politicians in power and those in the opposition hold opposing views on China to attract voters. So I thought Romanchuk, now president of Scientific Research Mises Center and deputy chairman of United Civil Party of Belarus, will have views different from that of Lukashenko, who considers China a friend.
Romanchuk said he fully understands China's rise and the challenges it faces. Asked about his views on the challenging efforts of China and Belarus to transform a village near Minsk airport into a high-tech city in 20 years, he belied fears of China's growing presence in his country, saying the project is welcome and it would progress faster if he is president.
In Belarus, politicians are competing with each other to offer China policies that are more suited to deepening cooperation between the two countries. They do not follow the pattern of one party supporting and the other opposing China, or vice-versa.
The China factor has been a hot topic in elections in some countries, especially the United States, for some years now. With the campaign for the 2016 US election heating up, American politicians have started using the China factor to garner support. Those opposed to China are focusing on geopolitical issues, foreign exchange rates and trade protectionism, while the other side is calling for closer engagement with China to increase two-way trade and investment.
But experience shows that no matter which party (Republicans or Democrats) wins the election, its policies toward China have focused on cooperation rather than confrontation, because both parties know well that American businesses cannot afford to lose the market in China and, increasingly so, the investment from China. This seems to have become the basic logic of Western election politics with regard to China.
But this approach may not work for long if Western politicians don't realize that a growing number of their voters have started acknowledging China's success during the past more than three decades. Romanchuk is a good example of this changing mindset and approach. By competing with each other to offer even better China policies, politicians can attract more voters, especially young voters who have a greater understanding of China than their parents thanks to the Internet. Romanchuk says he posts two to three pieces on social media every week, and if he were to oppose China without telling the truth, he would risk losing the support of young people.
In fact, some Western politicians now say speculations about China's collapse and the failure of market-oriented reforms are baseless. These speculations are the result of not seeing the picture in its entirety.
Western politicians would do well to change their tactics to attract voters. If they continue with the age-old practice of China-bashing they risk losing voters, because an increasing number of people know that politicians indulge in such tricks before elections only to bury them after being elected.
At the peak of the global financial and European debt crises, Pierre Defraigne, executive director of the Brussels-based think tank College of Europe Foundation, analyzed the shortcomings of two-party and multiparty systems, saying if one side believes "this is white", the other side has to say it is "black". This is not good for any policy, let alone one toward China.
The author is China Daily chief correspondent in Brussels. fujing@chinadaily.com.cn
(China Daily 05/27/2015 page9)