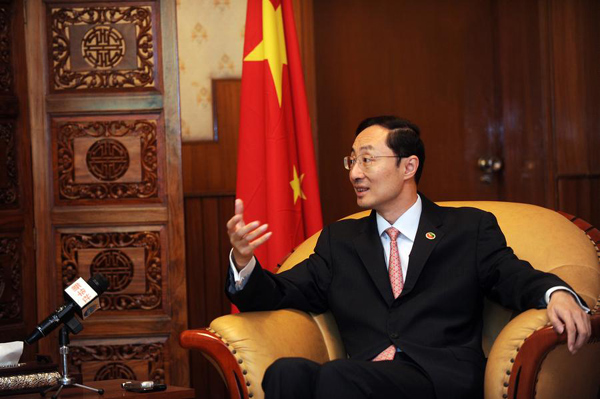 Chinese Ambassador Sun Weidong gets interviewed in Islamabad, Pakistan, April 18, 2015. [Photo/Xinhua]
Historically, high-level interactions between China and Pakistan have been instrumental not only in promoting bilateral relations, but also resulted in positive changes in the region and beyond.
Despite representing different political systems and civilizations, the two countries have enjoyed exemplary relations during past more than six decades. The strength of close bilateral ties is reflected not only in their relations but in their ever-growing cooperation and coordination on regional and global issues at various international forums and hence recognized globally as exemplary. An important reflection of this strong and trusted relationship is its continuous growth despite changes in the political and strategic environment both within and around the two countries.
Seen in this backdrop, the visit of President Xi Jinping to Pakistan represents a continuity of the age-old bilateral ties as well as a stepping stone for promoting stability, peace and progress in the region and the world beyond - a role based on mutual trust, harmonious development and the win-win approach of China on all fronts.
While Pakistan and China are likely to sign dozens of memoranda of understanding and agreements in fields such as nuclear power, Gwadar Port, energy, trade and investment during Xi's visit, the significance of all these projects is their being part of the China-Pakistan Economic Corridor. Though a recent initiative, the foundation for the CPEC was laid in the 1970s when the two countries jointly built the Karakoram Highway and the 2000s when the Gwadar Port was planned and the project was assigned to China.
Being long-term initiatives, the aspect of multiple challenges of terrain, adequate financial resources, technology, security and stability cannot be ignored. Political and vested interests may also be at play, in addition to the dislike hostile forces - both regional and extra-regional - have for such initiatives. Yet there are strong reasons to believe that China and Pakistan together have the required capacity and capability to overcome all challenges for their own interests and their positive global impact.
Indeed, Xi's visit is going to be an important landmark in further boosting this spirit and promotion on the fast track. The CPEC becomes even more significant when seen along with the China's Silk Road Economic Belt and 21st Century Maritime Silk Road initiatives - which would together pass through or touch about 40 economies and thus would influence the lives of more than half of the world's population - more than 3 billion people inhabiting China, South and Southeast Asia, Central Asia, the Middle East and Europe.
That would definitely help multiply the overall linkages in the connected regions to new dimensions and depths. Improved connectivity under China's vision of cooperation, in this scenario, would help promote overall stability and cooperation as well.
The China-proposed Asian Infrastructure Investment Bank with an initial capital of $50 billion, which has been joined by more than 50 countries across the Asia-Pacific region and many European countries, will provide a solid foundation and a channel to finance connectivity initiatives. Expected to begin operations by the end of this year, the AIIB has been designed to provide project loans to developing countries.
Stability in the region is imperative to make the CPEC a real success. The situation in Afghanistan is, therefore, an important area of concern for both China and Pakistan. Associated with it are the issues of non-state actors, extremism, terrorism, drug trafficking and arms smuggling. Each of these issues has the potential of triggering a situation that can damage the overall environment of love and respect between the peoples of the two countries, and the overall conducive environment for the CPEC initiative.
While the exchange of information and intelligence as well as the joint China-Pakistan strategies on these sensitive issues are not new, the two countries are now part of a tripartite dialogue with Afghanistan. Xi's visit is thus expected to focus on the dynamics of the phenomenon and help devise a sustainable future strategy, most importantly in countering the sponsored negative campaigns.
The author is director general of Institute of Policy Studies, Islamabad.