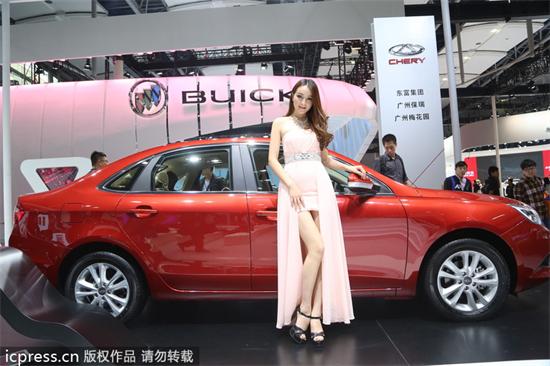 A girl stands next to a car displayed at the Auto Guangzhou 2013, Guangzhou, Nov 21. [Photo/IC]
The 16th Shanghai International Automobile Industry Exhibition, scheduled to open later this month, has officially announced that no models would be seen at the show. This should be considered a welcome move, especially because some auto exhibitions had been blamed for hiring models to "grace" the shows in skimpy clothes to attract more eyeballs. The presence of scantily clad models made many a commentator ask whether the shows were for cars or models.
But is it right to do away with models at auto exhibitions? The international practice is to have models add to the glamour of auto shows. At the Frankfurt International Motor Show, considered by many as "the Olympics of automobiles", models accompanying cars do attract potential buyers; the same is true of the shows in Tokyo, Paris and Geneva. Some of them also make for perfect photographs with the cars, and thus promote their popularity and sales. At these major international shows, there is nothing obscene or erotic about the models because the cars play the dominant role.
So why is the story different in China?
It should be stressed that the majority of models are against exposing themselves. Just like Fan Ziye, a car model, has written in her micro blog: "Who wants to expose? I have participated in many auto shows and I never wore anything improper, it is some bad guys who destroy the profession."
Car sellers and producers, too, don't want models to be half naked, because they do not bring any additional profit. In a recent interview with Xinhua News Agency, several car sales managers said models demand much higher fees for walking around in skimpy dresses. Besides, they attract only photographers who bring cameras, instead of real clients who bring money. So why have scantily clad models?
The seeming contradiction lies in the vicious competition in the PR and entertainment industry, and the lack of regulation. To attract more eyeballs, PR companies use all speculative measures possible, including half-naked models, at commercial events.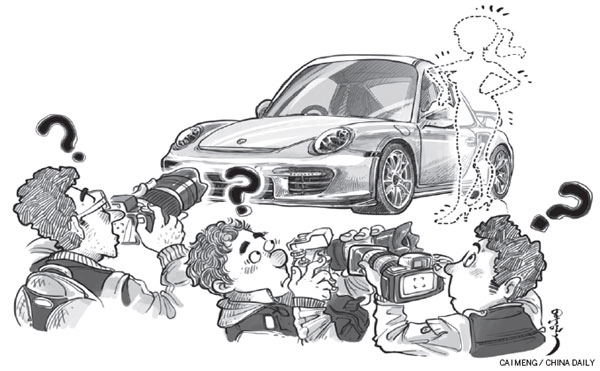 In fact, some bad examples have been set over the past few years. After the sex video of Zhai Ling was posted online a year ago, the little known car model became well known across the country with some people even "sympathizing" with her, until some insider said it was an organized ploy to grab attention. Later, Gan Lulu, another self-proclaimed model, attracted nationwide attention by posting videos with her naked body, after which she started attending exhibitions in skimpy clothes.
The desire to seek attention and also make money in the process can be seen among some people in every society. But in societies where the rule of law is supreme, authorities set red lines for PR companies. Since there is no such specific law in China, none of the PR companies get punished; instead, they become "famous" and get more contracts. Just as Fan has written, "the less they wear, the more they earn".
A vicious circle has been formed: showgirls who expose themselves attract more attention and earn more contracts and make more money. This is not good for the model profession, because those not ready to expose themselves end up loosing their incomes.
Therefore, one car exhibition saying no to models will not solve the problem. Specific laws and regulations are needed to curb this trend. Also, the government should encourage models or their management companies to form self-disciplinary professional unions.
By taking steps to end the vicious competition and cultivating a healthy environment for all, such laws and regulations would serve the interests of everyone involved in the model profession.
The author is a writer with China Daily. zhangzhouxiang@chinadaily.com.cn