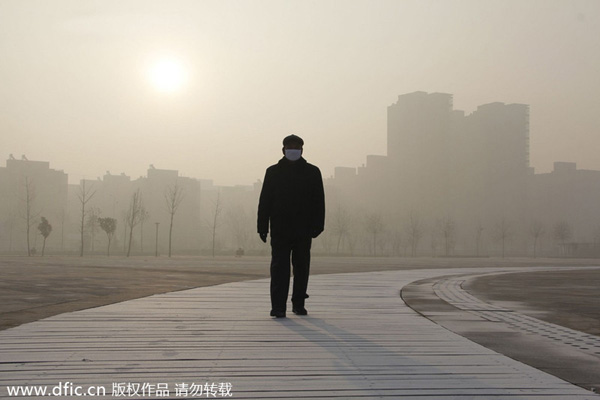 A man with face mask in Anyang city, Henan province, Feb 25, 2014. [Photo/IC]
The Ministry of Environmental Protection is reported to have recently issued an official letter to Chongqing municipality, requiring it to stop constructing Xiaonanhai hydropower station, which has aroused controversy since the plan was raised in the 1990s, because it might harm the ecology and violate the natural protection area in the middle reaches of the Yangtze River. Comments:
China has long had a Law on Environmental Impact Assessment. The key problem lies in leading local officials blindly pursuing GDP growth and simply ignoring the environmental departments. The recent move by the Ministry of Environmental Protection shows the central authorities are paying attention to building an ecological civilization. Hopefully, now that society has rallied enough consensus on environmental protection, the days when officials allowed and initiated construction programs at the cost of the ecology and environment are gone.
People's Daily, April 13
There used to be a hidden rule that as long as leading local officials decided to start a project they would do it. Environmental experts might be consulted, but they were required to do nothing but rubber stamp the projects. During the expert discussions about the Xiaonanhai project, more than one expert said it might harm the rare fish in the Yangtze and harm the river's ecology, but the plan was still approved. I hope such a project is not repeated in the future.
Wang Jin, a professor of environmental law at Peking University, April 10
Justice is finally being done thanks to tireless efforts of experts and the central leadership that launched the reform to promote the rule of law. We hope the case sets an example for future disputes and we no longer need to waste so much energy on stopping a construction project that obviously harms the environment.
Hunan Morning Post, April 11