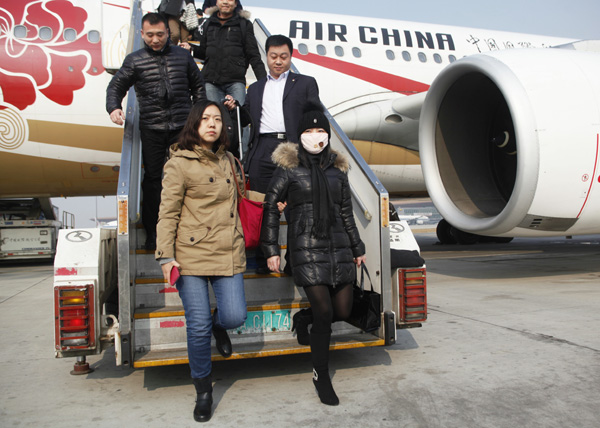 An economic fraud suspect (right) is returned to Beijing under police escort on March 24 after 10 years on the run in Italy, marking the first extradition of its kind to China from a European country, according to the Ministry of Public Security.
As part of its broader anti-corruption campaign, China's accelerated efforts to hunt for corrupt officials who have fled overseas demonstrate its zero tolerance toward corruption.
It is reported that during US Secretary of Homeland Security Jeh Johnson's visit to China last week, an agreement was reached with China on simplifying procedures for repatriating corrupt Chinese officials hiding in the United States to China. This is viewed as a major breakthrough in China's efforts - called Fox Hunt.
Undoubtedly, the agreement not only marks substantial progress in China's bid to bring corrupt officials back home from abroad, it also means increased cooperation between China and the US in the crackdown on corruption. Given that the US has long been a preferred destination for corrupt Chinese officials seeking safe haven overseas, the agreement will facilitate China's efforts to hunt them down and bring them to justice.
Since the 18th National Congress of the Communist Party of China in 2012, the leadership has held a zero-tolerance attitude toward corruption and initiated a large-scale hunt for corrupt officials hiding overseas. To this end, a special task force was set up last year. Aside from efforts at the central level, provincial-level governments have also set up special offices for the same purpose.
In fact, China has increased cooperation with the US and Canada in its fight against corruption in recent years, such as the investigation into and the freezing and return of corrupt officials' assets. The establishment of an Asia-Pacific network on anti-corruption law enforcement cooperation, which includes the US, Canada and Australia, was announced during the APEC Summit in Beijing late last year.
This, together with the latest US agreement to simplify procedures for repatriating Chinese corrupt officials to China, signals the further deepening of China's ongoing crackdown on corruption.
The above is an abridgement of an article published on the Guangming Daily website on Monday.