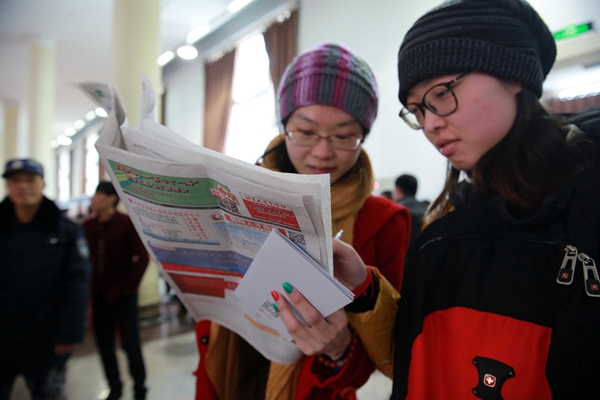 Job seekers read recruitment information on newspapers at the job fair in Beijing on Feb 28, 2015. [Photo by Chen Ming/Asianewsphoto]
In response to mounting complaints about the policy of the Beijing bureau of human resources and social security to encourage employers to recruit more locals, Liu Xiaojun, an official from the bureau, said on Saturday that this policy will only give priority to unemployed Beijing residents regarding some newly added posts, and it is not designed to discriminate against non-locals. The unemployment rate of local citizens, Liu explained, is much higher than that for migrants in many industries. Comments:
By encouraging employers to hire more local residents, Beijing's bureau of human resources and social security will make migrants less likely to get a job in the capital, thus forcing them to go elsewhere to make a living. Such a discriminatory policy, if it comes into effect, could be at the cost the city's openness and other capabilities.
Dai Xianren, a guest commentator with Southern Metropolis Daily, April 4
For most employers, it is the employees' ability to generate profits that they most value when hunting for talents. It is unfair that the Beijing government is seeking to manipulate the job market with its administrative power, however eager the employment officials are to complete their assignments. Given the limited job opportunities at hand, creating a bias to employ locals violates the rights of unemployed migrants.
Guo Yuanpeng, a guest commentator with rednet.cn, April 4
Job hunting is market-oriented, and it is the market that actually decides where a job seeker is able to work and live. Besides, the country's job market is open and big enough for all job seekers to make a living. Therefore, Beijing should think twice before carrying out an employment policy which favors locals.
Bandao Metropolis Daily, April 4