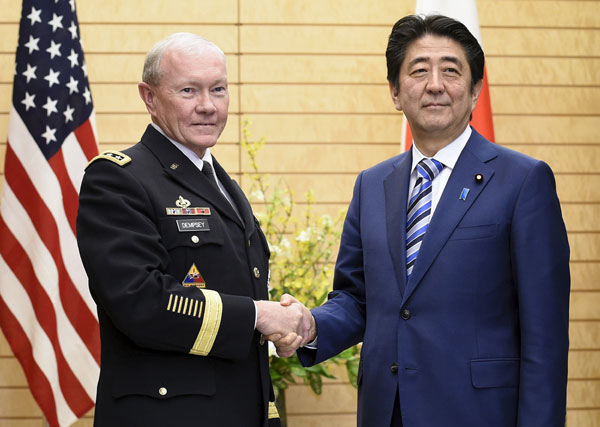 US Army General Martin Dempsey (L), chairman of the Joint Chiefs of Staff, shakes hands with Japan's Prime Minister Shinzo Abe at the start of their talks at Abe's official residence in Tokyo March 25, 2015.[Photo/Agencies]
Sticking with its biggest ally the United States, Japan has decided not to apply for founding membership of the Asian Infrastructure Investment Bank before the March 31 deadline.
Chiming in with the US, Japan has claimed that the AIIB will challenge the World Bank and the Asian Development Bank and it too has raised the issue of transparency.
Japan's daily Nikkei Shimbun reported that Japan's Ministry of Finance, based on its intelligence, told the Abe cabinet that the other six leading industrialized nations would not be interested in the AIIB membership. As a result, the Japanese government had not discussed fully the benefits Japan would garner if it joined the bank that will launch late this year.
In fact, four of the G7 members - Britain, France, Germany and Italy - have applied to be members of the AIIB.
The fact that more than 50 countries and regions have applied to join the AIIB has left Japan in shock. Japan's daily Nikkei Shimbun reported that a person close to the country's Prime Minister Shinzo Abe called the government's decision "negligent".
But Abe's "negligence" is for political reasons, not economic ones. Abe is putting the Japan-US alliance before the AIIB.
Some Japanese officials have admitted that Tokyo would be willing to commit to the AIIB if Washington declared its participation.
But Tokyo's policy of following Washington's lead has raised many eyebrows in Japan. Makoto Taniguchi, former deputy secretary-general of the Organization for Economic Cooperation and Development called Japan's being at the US's beck and call "shameful".
In the wake of the 1997 financial crisis, when Japan found the International Monetary Fund was slow to respond to Asia's needs, it thought about establishing an Asian Monetary Fund. But it had to drop the idea in the face of US opposition. Washington feared such an institution would weaken its influence.
Asia is growing rapidly. The Asian Development Bank, which is led by the United States and Japan, is set to raise the amount it can lend annually for infrastructure and other projects by nearly 40 percent to $18 billion. Yet the bank estimates that Asia has annual infrastructure needs of $750 billion, of which it contributes just $13 billion.