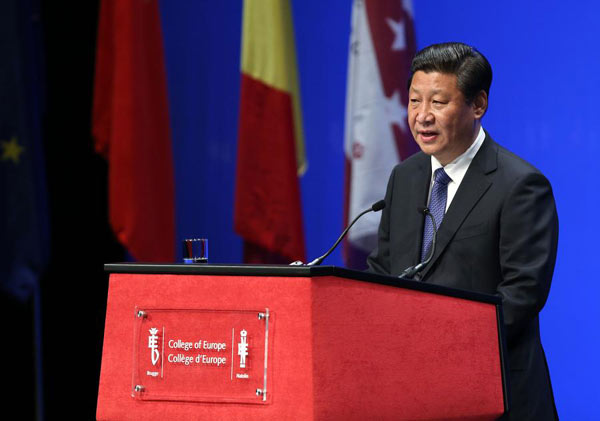 President Xi Jinping delivers a speech at the College of Europe in the Belgian city of Bruges. [Photo/Xinhua]
The euro has depreciated about 20 percent in the past year - from 1:8.50 yuan to 1:6.80 yuan - and could drop further. The plunging euro reflects the dramatic changes China and the European Union have gone through since President Xi Jinping paid a historic visit to the European Union headquarters on March 31, 2014.

Wrapping up his first visit to Western Europe as China's president, Xi delivered a landmark speech at the College of Europe in Bruges, Belgium, on April 1, urging the two sides to become partners in peace, growth and reform.
In the one year since Xi's visit to the Netherlands, France, Germany and Belgium, the leadership has changed in the EU's three influential institutions, the European Parliament, European Commission and the European Council.

The EC, in the meantime, has been working on an investment plan to channel 315 billion by 2017 and the European Central Bank has started implementing quantitative easing. And these two moves are partly responsible for the weakening euro.
In China, on the other hand, changes have been even more profound.

The Chinese leadership remains determined to eliminate corruption by taking even stricter anti-corruption measures to keep governments, officials and civil servants clean.

The Chinese leadership has also ushered in the concept of "new normal" to change its development model and protect the environment by slowing down the pace of economic growth.
To help economic development in the rest of the world, China has put forward the Silk Road Economic Belt and 21st Century Maritime Silk Road initiative, saying they will eventually echo in the development agenda of Europe and benefit European countries.

Besides, to the consternation of the United States, European countries such as Germany, the United Kingdom, France, Switzerland, Austria and Denmark have applied to join the China-proposed Asian Infrastructure Investment Bank.