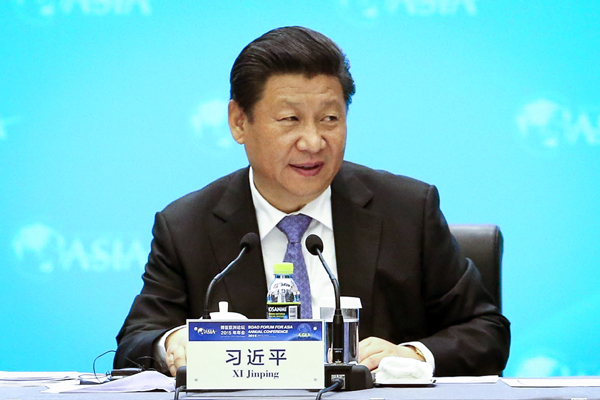 President Xi Jinping attends a meeting with entrepreneurs at the 2015 Boao Forum for Asia in Hainan province on Sunday. WU ZHIYI/CHINA DAILY
Nation continues to welcome and protect foreign capital
President Xi Jinping assured foreign and Chinese corporate leaders at the 2015 Boao Forum for Asia on Sunday of China's commitment to its openness and welcoming of foreign investment.
He noted how some people believe that because China is now a global investor itself, it no longer needs foreign capital, or that its recent monopoly penalties on a few international corporations signal a rise in protectionism.
"Such views are all biased," he said.
The president said China will remain unchanged in its policies on foreign capital, in its protection of foreign investors' lawful rights and interests, and in its effort to improve its services to them.
Data from the United Nations Conference on Trade and Development show that China took in the most new foreign investment of any country last year.
That shows the country's "new normal"-a transition to high-quality products and service despite a slowdown in growth-can only result in more business opportunities for overseas investors, Xi said.
The interaction between China and the rest of the world is becoming increasingly closer, underscoring their shared destiny and opportunities more than ever, he said.