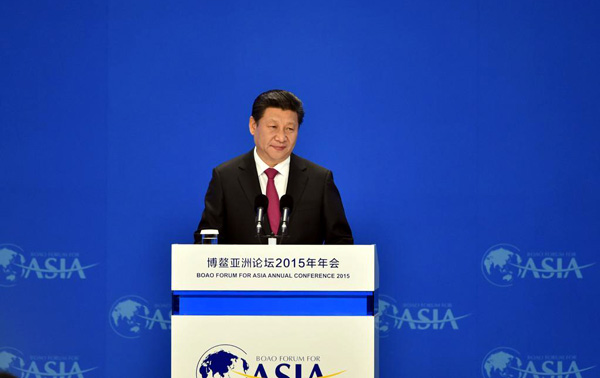 President Xi Jinping addresses the opening ceremony of the Boao Forum for Asia, on March 28, 2015. [Photo/Xinhua]
BOAO, Hainan - Chinese President Xi Jinping on Sunday said he hoped foreign entrepreneurs would boost contact and cooperation with Chinese firms and initiatives for win-win results.
The Silk Road Economic Belt and the 21st Maritime Silk Road initiative, proposed by China, will push trade and investment between China and countries along the routes and their common development, said Xi at a symposium with some 40 domestic and foreign entrepreneurs on the sidelines of the 2015 Boao Forum for Asia (BFA) conference.
"We hope the annual trade volume between China and these countries to surpass $2.5 trillion in a decade or so," he told the board chairmen and CEOs from Saudi Arabia, Australia, the United States, Thailand, Russia, and the Republic of Korea.
The "new normal" of the economy and China-led initiatives, such as the Silk Road Fund and the Asian Infrastructure Investment Bank (AIIB) means new opportunities, said Xi.
China will be more and more open to the outside world, while it will not change policies that encourage the use of foreign investment, protect the rights of foreign-funded enterprises and provide better services, said Xi.
Deeply integrated with the global economy, the Chinese economy is an important driving force for Asia and the world, Xi said, stressing its efficiency and quality was improving alongside positive structural adjustments.
"The interaction between China and the world is increasingly closer," and opportunities in the domestic market, investment, green growth and foreign cooperation are expanding, said Xi.