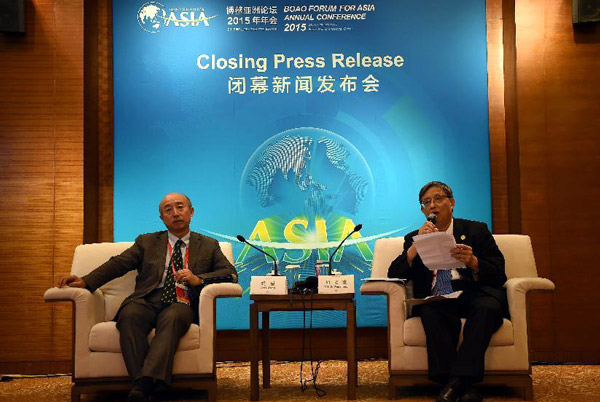 Yao Wang (L), Executive Director of the Boao Forum for Asia (BFA) and Zhou Wenzhong, Secretary General of the BFA, attend a press conference of 2015 annual conference of the BFA in Boao, South China's Hainan province, March 29, 2015. The four-day forum closed here on Sunday. [Photo/Xinhua]
BOAO, Hainan province -- The annual conference of the Boao Forum for Asia (BFA) closed on Sunday in South China's Hainan province.
Chinese President Xi Jinping spoke at the opening ceremony and called for a community of common destiny of Asia.
The conference, which this year adopted the theme "Asia's New Future: Towards a Community of Common Destiny", was attended by 2,786 political, business and academic leaders as well as journalists from 49 countries and regions.
The four-day forum, which started Thursday, focused on several key areas, such as the Belt and Road initiatives, the Asian Infrastructure Investment Bank (AIIB), and ASEAN Economic Community.
This was the 14th BFA annual conference.
A non-governmental and non-profit international organization founded in 2001, the BFA is committed to promoting regional economic integration and bringing Asian countries closer to their development goals.