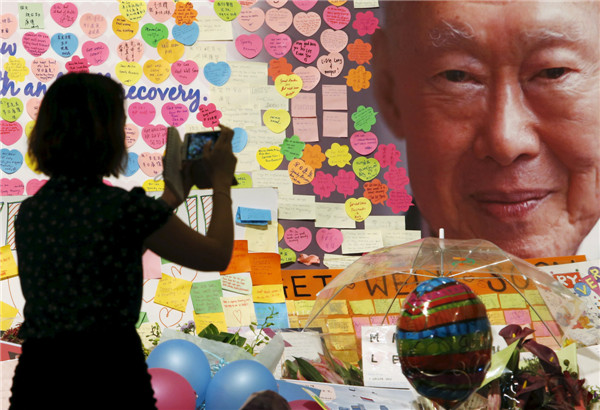 A woman takes photos of cards for former Singaporean prime minister Lee Kuan Yew, placed at a well-wishing corner at the Singapore General Hospital in Singapore, March 23, 2015. [Photo/Agencies]
There is an old Japanese proverb: "Vision without action is a daydream. Action without vision is a nightmare." Lee Kuan Yew was among the very few statesmen who not only were visionaries but also took action to turn their visions into reality.
He became the prime minister of Singapore in 1959 when it obtained full self-government from the British. At the time Singapore's population was 1.59 million and per capita GDP less than $400. When he voluntarily stepped down in 1990, Singapore was a different country, with a population of 3.07 million and per capita GDP of $11,845, a 30-fold increase.
Lee was free of any political dogma. His philosophy was to look at a specific policy and determine if it would work. If it was likely to work, Singapore tried it. If it worked, it was continued. If it did not, "we tossed it out and tried another one". This experimental ideology has served Singapore well.
Lee was a believer in good governance and strong laws, which were promptly and fairly implemented. On one occasion, he told us: "Once you have corruption, bad administration, fickle decision making which can be influenced by friendship or favors or bribes, then you have got a problem." Corruption may become part of a political system. "You need money to win in politics. So, you promise people who provide you with this money favors, and when you get into office, whether it is the opposition of the governing party, you have to return those favors. So, the corruption goes on."