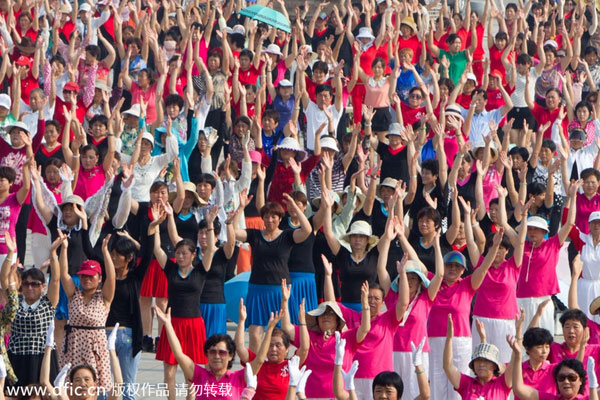 Two thousand people perform square dance despite the 30-plus degree temperature in Zhumadian, central China's Henan province, on July 26, 2014. [Photo/IC]
People square-dancing in public spaces have provoked many complaints over the years, especially about the loud music. Twelve choreographed practices accompanied by Chinese pop music such as the online sensation Little Apple, are being introduced to regulate and promote the activity, according to the country's General Administration of Sport of China and the Ministry of Culture on Monday. Comments:
When introducing national standards and regulations to guide square-dancing in public spaces, local governments are supposed to take the lead on the basis of public participation. For instance, community-based fitness centers can play a managerial role and the dancers could be required to wear headphones. More, the local authorities should help all sides involved reach an agreement on the exercise schedule.
Liu Guoyong, chief of the people's fitness department affiliated to the General Administration of Sport of China, March 23
As a matter of fact, what has prompted all the complaints about square-dancing is the mismatch between the limited public spaces and the increasing popularity of the activity across the country. Being an integral part of popular culture, public square-dancing requires more official support and guidance.
China Culture Daily, Feb 14
Chinese senior citizens' willingness to exercise is good news for both society and their children. However, when it comes to disputes over noise and venues, how to strike a balance between group dancing and public benefits is a concern to both governments and residents. The negotiations will only work when public facilities are expanded and official guidance is available. Only then will mutual understanding be achieved.
Su Xiaoqian, a guest commentator with cri.cn, July 10, 2014