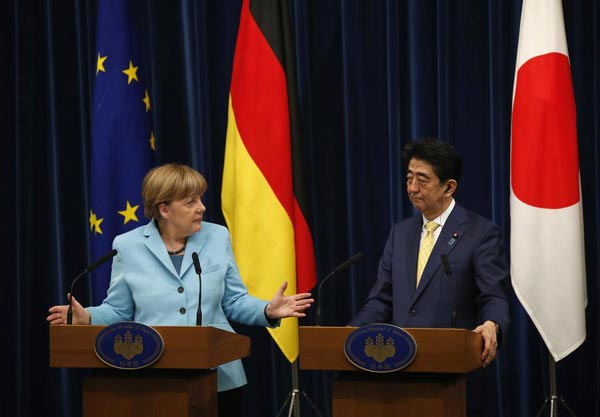 Germany's Chancellor Angela Merkel (L) and Japan's Prime Minister Shinzo Abe attend their joint news conference after talks at Abe's official residence in Tokyo, March 9, 2015. [Photo/Agencies]
German Chancellor Angela Merkel was modest when she told a press conference after her meeting with Shinzo Abe on Monday in Tokyo that settling wartime history is a prerequisite for reconciliation. But her call for Japan to resolve issues concerning Japan's system of wartime sex slavery was loud and clear.
Yet such sincere advice seems to have fallen on deaf ears, as verified by Japanese Foreign Minister Fumio Kishida when he said it is inappropriate to simply compare Japan with Germany over their postwar settlement. He told reporters that the background - what happened to Japan and Germany during World War II and what countries their neighbors are - is different.
He seems to forget that wartime Germany was a fascist country and so was wartime Japan. Both waged wars of aggression against others and the invaders of both committed wartime crimes against humanity. Unlike Kishida, we can see little difference in the fascist background of wartime Germany and Japan.
But we do see the difference between the politicians of the two countries in how they face this common past.
The majority of politicians in Germany sincerely reflected on the misery and devastation their country perpetrated in other European countries, as Merkel noted. As a result, the contrition Germans showed led to reconciliation with the victimized peoples and Germany's return to the international community.
However, it is a different story for Japan. Reflection on the war and contrition about what the Japanese invading forces did have never been as thorough as they should have been. Instead, there have always been voices, including those of politicians and even Cabinet members, seeking to whitewash the atrocities the Japanese aggressors committed or to play down the liabilities of the Japanese government for the war.
Kishida's latest remark verifies his personal irresponsibility and his lack of respect for Japan's neighbors. Despite his refusal to compare Japan with Germany, the world will do.
As was shown by his comment "what countries their neighbors are", he was laying bare his mind: Japan's neighbors, including China, do not deserve a heartfelt apology from Japan and neither do they deserve thorough contrition on the part of Japan.
The Japanese foreign minister's remark, whether or not represents the attitude of the Abe administration, is telling the world that Japan wants no reconciliation with its neighbors.