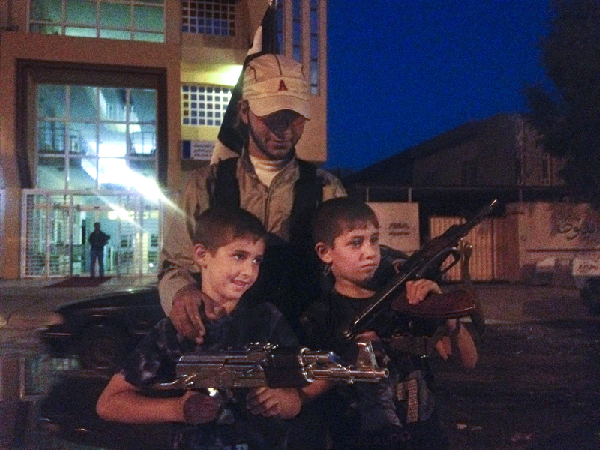 An anti-Islamic State group organization, shows children at an Islamic State group training camp in Raqqa, Syria. This undated image posted online and made available on Nov 20, 2014[Photo/IC]
The fight against the Islamic State group, which is wreaking havoc in the Middle East, definitely needs joint efforts and wide collaboration from the international community. Yet, an ill trend has raised its ugly head recently among Western media which intends to sow the seed of double standards and throw mud at China's counterterrorism efforts.
Citing media reports that some 300 Chinese from the Xinjiang Uygur autonomous region have traveled to the Middle East to join the extremist group, a Bloomberg report on Feb 25 wrongly accused China's policies in the region of creating fertile ground for Islamic extremism.
This malicious accusation is hardly worth refuting as it is known to all that China is also a victim of terrorism and extremism, and it has never relented in its efforts to crack down on extremists in Xinjiang area.
It has been widely reported that some 20,000 foreign fighters influenced by extremist ideas have joined the IS. They came from various countries in the world, with thousands of them from the United States and European countries. In Asia, it is estimated that more than 1,000 people have gone and joined the IS, with most of them from Indonesia, Malaysia and the Philippines.
If the logic of the China-bashing story is applied to, any country whose citizens have gone to join the IS should be blamed for brewing extremism on its own soil.
An article published on Foreign Policy website on Feb 23 also falls into the same category of absurdity. It alleged that China's approach to addressing terrorism is deeply politicized. It even went further to make a link between China's counterterrorism efforts and human rights.
These Western media reports are misleading and ill-intentioned as they only trumpet the double standards the West has adopted in the war against international terrorism. Such ill practice, whether it is out of strategic reasons, misunderstanding or bias, does a disservice to the concerted international efforts against terror.