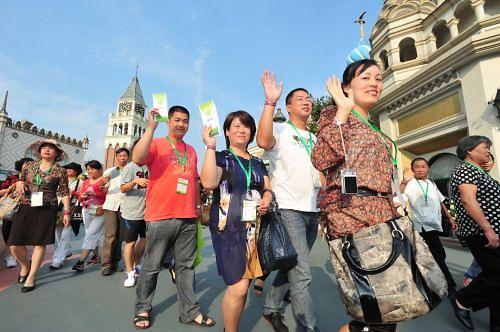 Chinese tourists visit South Korea in an undated file photo.
In response to a local initiative, some residents in Hefei in central China's Anhui province exchanged the fireworks they had bought for plants so they could reduce the air pollution rather than add to it.
In a frenzy to enjoy the unearthly beauty of the Lugu Lake in southwest Yunnan province, several holidaymakers drove their cars into the shoals of the lake. It seemed they only saw the splashes under the wheels, not the muddy water they stirred.
Hundreds of volunteers at famous national scenic spots, such as Mount Huangshan and Jiuzhaigou, helped tourists to do their sightseeing in a more civilized way.
In a video posted online, a Chinese tourist was seen kicking some ancient bells in a temple in Chiang Mai, Thailand. His curiosity about whether the bells would ring made him the latest representative of Chinese tourists behaving badly abroad.
These are examples of both the positive and negative moments that occurred during this year's Spring Festival. The seven-day holiday officially ended on Wednesday, but recollections of this festival will stay on, hopefully long enough for us to make sober reflections on the better ways we have spent what is the most important holiday of the year.
On the plus side, there have been signs from across the country indicating we are marking the tradition handed down from our ancestors in more desirable ways. For example, fewer residents in big cities, Beijing included, set off fireworks during the festival season, proof of the rising social awareness of the personal responsibility to curb air pollution.
As the most salient feature of the Chinese New Year, fireworks have long brought both a festive flavor and air pollution to big cities. The reduction in the amount of fireworks set off this year is clear evidence that more and more Chinese have a better sense of their own responsibility when it comes to air quality and protecting the environment.