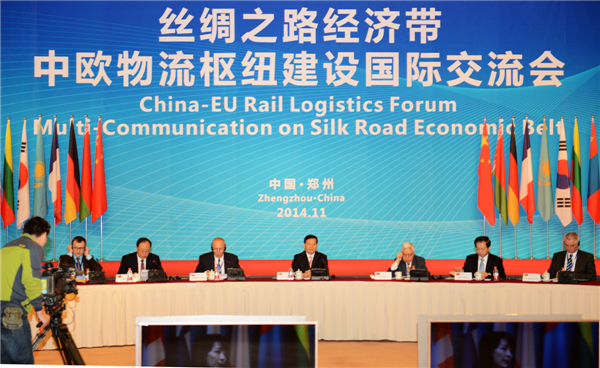 More than 500 delegates and entrepreneurs from countries along the Silk Road Economic Belt attended the China-EU Rail Logistics Forum Multi-communication, in Zhengzhou, capital of Central China's Henan province, Friday. [Photo by Xiang Mingchao/provided to chinadaily.com.cn]
The Silk Road Economic Belt and 21st Century Maritime Silk Road initiatives of President Xi Jinping are aimed at promoting regional economic cooperation. Being supplementary to the existing world economic order, the initiatives will help boost regional economic cooperation and development through infrastructure construction based on China's successful experiences over the past decades.
The "Belt and Road Initiatives" are the first independent concept put forward by China for international economic cooperation. They are particularly important in the context of the International Monetary Fund's failed efforts to push forward infrastructure investment.
Given their popularity among some Southeast, South, Central and West Asian countries, the initiatives, if well implemented, will become a vital component of the established international system. The advance of China's westward economic cooperation is also expected to lower the risk of direct conflicts between China and the United States in the Pacific and help Beijing follow its "peaceful development" strategy.
But while implementing the initiatives, China should refrain from using them as a Cold War tool.
Recently, some international relations scholars claimed that a bipolar confrontation, with China and Russia on one side and the US and Japan on the other, is taking shape in the Pacific where the two camps are competing to assume the power to make the new rules. China, the scholars believe, has to strive to be the top military power to ensure that it exercises the power to make the rules and safeguard its economic interests.
Such views are preposterous given that China is not poised to challenge the US' position in the region. China may be the second-largest economy in the world, but its economic development is still to reach an advanced level. And the disintegration of the Soviet Union taught China a lesson: military power not built on economic strength will not last long.
China should make efforts to prevent the well-conceived "Belt and Road Initiatives" from becoming the international version of its "go west" policy. The need, therefore, is to reflect on the failure of the strategy to achieve expected results in developing the country's western region, the rise of the central region and the revival of the old industrial base in its northeast.