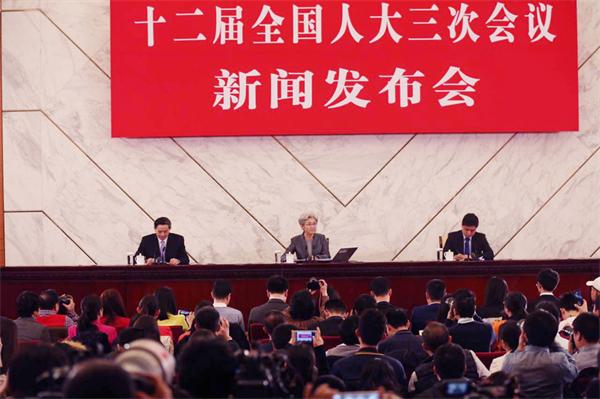 A press conference for the 12th National People's Congress is about to start in Beijing March 4, 2015. [Photo by Wang Jing/China Daily]
The annual session of the National People's Congress, the top legislature, will open on Thursday. As ever, many are expecting that the brainstorming among NPC deputies will bring substantial changes to specific government policies, which will be to the benefit of the general public.
For example, at Wednesday's news conference just ahead of the NPC session, a reporter asked why the Ministry of Finance had under its own discretion raised the tax on gas several times even though it has been emphasized at Party congress sessions that the levying of taxes should be subject to approval of the NPC. The reporter asked the NPC spokeswoman whether the NPC had failed to perform its duty on this issue.
Although the spokeswoman said that the NPC had authorized the State Council, the Cabinet, to make a decision on its own about the levy of various taxes, she emphasized that the Cabinet should also follow the Legislation Law.
This is actually an issue that should be discussed by national lawmakers as it is arbitrary for a department under the State Council to make a decision to increase taxes on certain commodities without giving enough deliberations or letting the general public know about where the tax levies will go.
An NPC deputy interviewed said he put forward a motion last year proposing that the Ministry of Environmental Protection should report its work at the annual NPC session and the minister should resign if his report failed to be approved by the deputies. However, his motion was not accepted.
He said he would raise the same motion at this year's session because violations of the environmental protection law are a frequent occurrence nationwide, which has rendered it impotent. Obviously, the Ministry of Environmental Protection has a lot of work to do to ensure the effective enforcement of the law so that polluters can be subjected to deserved penalties.
Both the annual sessions of the NPC and CPPCC National Committee need to shift their attention to issues that are closely related to the well-being of the general public and social progress.
Ineffective execution of the environmental protection law, which has resulted in increasing deterioration of the environment, is such an issue. Tackling this issue in a down-to-earth manner will have a great bearing on both people's well-being and the country's sustainable development in the long run.