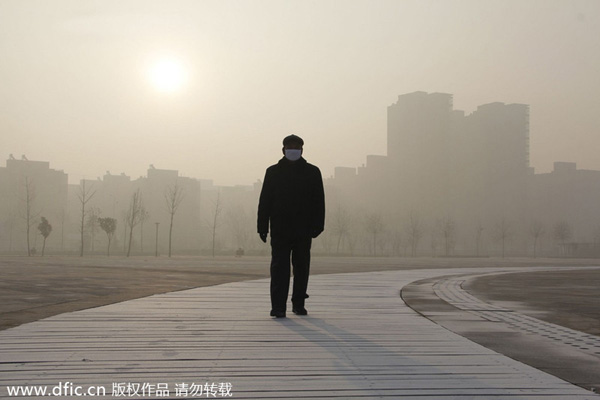 A man with face mask in Anyang city, Henan province, Feb 25, 2014. [Photo/IC]
Recently Chen Jining, the newly appointed minister of environmental protection, said that his ministry will strictly enforce the updated environmental law this year. The old normal in which enterprises broke the law and government agencies did not follow the law closely must be changed, he said, adding that abiding by the law is the bottom requirement. Comments:
While welcoming the minister's words, a question emerges: How can the environmental agencies nationwide strictly enforce the law? Most of the polluting enterprises are under the protection of local governments; in order to break this protection, the media can be invited to intervene so that local officials won't dare to protect them. Environmental protection agencies should consider getting some journalists to accompany them when enforcing the laws, so that even the local officials will retreat.
rednet.cn, March 3
Environmental protection agencies used to be without teeth, because the law did not allow them to take coercive measures. They also were without support, too, because some officials, even residents, did not want to shut down polluting enterprises because they benefited from them. The amended Environmental Protection Law, put into force at the beginning of the year, empowers them to enforce the law, and both residents and officials have a better awareness of the need for environ-mental protection. The past excuses are gone, and the environmental protection agencies must be responsible for their actions.
Beijing News, March 3
The key problem for environmental protection is the economy. Many city authorities fully acknowledge the importance of environmental protection, but by shutting down polluting plants they will face the pressure of an economic slowdown and rising unemployment. Allowing urban economies a "soft landing" is necessary.
CCTV News, via WeChat, March 2