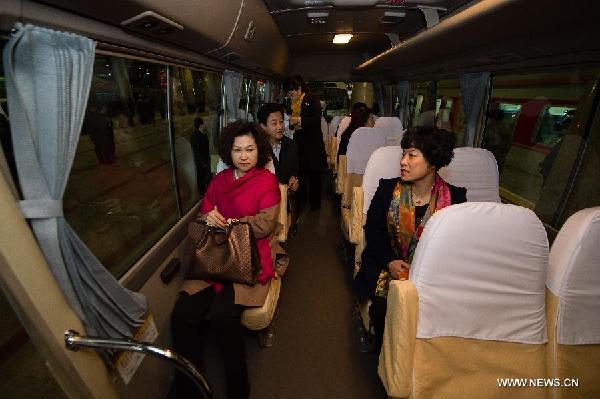 Deputies to China's 12th National People's Congress (NPC) from north China's Inner Mongolia autonomous region take a bus to their hotel in Beijing, capital of China, March 2, 2015. Deputies to China's 12th NPC from Inner Mongolia autonomous region arrived at Beijing West Railway Station in Beijing Monday. The third session of the 12th NPC, the national legislature, is scheduled to open in Beijing on March 5. [Photo/Xinhua]
The annual meeting of China's National People's Congress, or the top legislature, starts on Thursday.
The Congress should give us a better sense of the government's priorities and objectives for the rest of the year. Four things are likely to be in spotlight in particular.
The first is the GDP growth target, which will be revealed in Premier Li Keqiang's Government Work Report on Thursday.
It seems highly likely that the target will be lowered this year. It's widely speculated that it will be set at "about 7 percent", compared with the last two years' target of "about 7.5 percent". GDP growth had already fallen to 7.4 percent, the lower end of the government's target range, last year and most indicators suggest that momentum has remained weak coming into this year.
Keeping the target unchanged would therefore give the government little room to manoeuvre and likely to force it to ease policy more aggressively, setting back efforts to address credit risks.
At the same time, policymakers seem increasingly comfortable with the idea that China is undergoing a structural transition to a new normal of slower growth.
This increasing willingness to accept slower growth largely reflects the fact that concerns that a slowdown would hurt employment have so far proven unfounded. China added a record number of new urban jobs last year, easily beating the governments' annual 10 million job target. Over the past year, policymakers have continually emphasized that their primary focus is on ensuring a healthy labor market and have sought to downplay growth of GDP. As such, the government is likely to restate its 2014 target for new urban job creation in 2015.
Reform implementation is the second thing to pay attention to at the NPC, notably in the premier's Work Report.
If the provincial Work Reports that have already been published are any guide, State sector reform is likely to be one of the main areas discussed. While many local governments have already launched their own efforts to reform state-owned companies, it is worth looking out for further details regarding a nationwide plan.