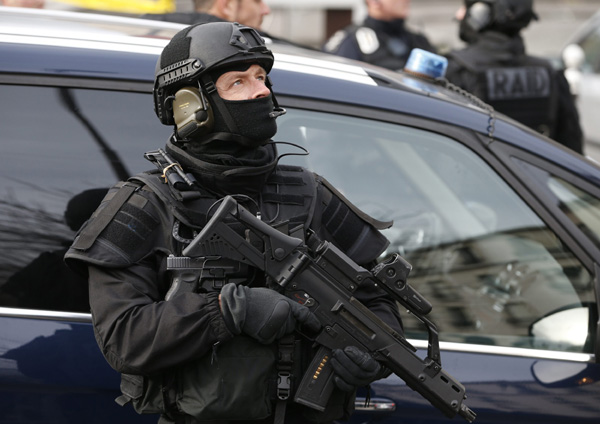 A member special French RAID forces secures the area of the Hyper Cacher kosher supermarket January 12, 2015 near the Porte de Vincennes in Paris, where four hostages were killed in a terror attack on Friday. [Photo/Agencies]
French President Francois Hollande has vowed to fight terrorism. His pledge came at the recently concluded World Economic Forum in Davos, Switzerland, two weeks after the terrorist attack on the offices of satirical magazine Charlie Hebdo in Paris. But is there a fear that Europe's "war on terror" will turn into a "clash of civilizations"?
For decades, European countries have been home to to millions of Muslim migrants. But despite enjoying the social security and other benefits of living in developed countries, many Muslim migrants and their descendents have not assimilated into Western societies; some have even fallen prey to terrorist organizations looking for cannon fodder to "promote" their cause. While some Islamic extremists have launched attacks on anybody they consider "enemies" - Charlie Hebdo being one - others have gone to Syria or Iraq to join the Islamic State.
In this atmosphere, the long-term effects of the Charlie Hebdo attack on French politics should not be underestimated. A few days after the attack, France sent an aircraft carrier to east Mediterranean to take part in the global fight against terrorism. That move was necessary to let people know the ruling party was obliged to protect them and thus prevent them from voting for far-right parties such as Front National, which could lead to antagonism within the French society.
But the fact that the post-attack issue of Charlie Hebdo carried a cartoon of Prophet Muhammad, stoking protests across the Muslim world, shows that European liberalism might not help promote unity either. It seems a lasting cultural crisis looms on the horizon.
Some Muslim scholars believe Islam is a universal religion with the history of an empire, which fits in with the ongoing trend of globalization. But leftist scholars insist everyone living in Europe should have a "European identity", which is not acceptable to many Muslims. The question is: Has the European community enough scope for Muslims to assimilate into European societies?