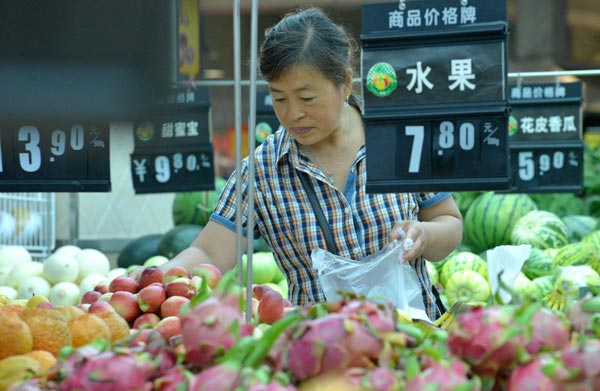 A consumer chooses fruits at a supermarket in Handan, Hebei province. The consumer price index rebounded to a four-month high of 2.5 percent in May from a year earlier, the National Bureau of Statistics said on Tuesday. [Photo/China Daily]
Price drops in August show a Chinese economy still weak and with more room for policymakers to carry out targeted stimulus measures.
The consumer price index (CPI) rose 2 percent in August from a year earlier, down from 2.3 percent in July, according to new data from the National Bureau of Statistics.
The drop is mainly caused by a higher base of last year and in the short term, at least, prices are still trending up thanks to rising food costs.
Month-on-month, the CPI rose by 0.2 percent as food prices surged by .07 percent over the previous month. Non-food prices dropped by 0.1 percent compared with July.
It will take more time to assess the real price trend. Given the still low levels and if there are no surprising changes to the economic fundamentals, it will be easy to meet the year's target of inflation control, which is 3.5 percent.
What policymakers are more concerned about now is growth. In August, the producer price index, which gauges factory-gate prices, fell 1.2 percent year-on-year, its 30th consecutive monthly decline. It dropped by 0.9 percent in July.
Together with the money supply data in August, the factory-gate price index is an unmistakable sign of economic weakening. These factors have affected the pricing abilities of Chinese companies.
The coal, iron and steel and cement sectors have become the direct victims of the economic weakening. Prices of these products have been on continuous decline and there have been few signs of improvement in the short term.
As Premier Li Keqiang has said, authorities have become more sober-minded despite the gloomy economic scenario and will stick to a reform agenda to unleash the vitality of the economy.
The possibility that policymakers will launch large-scale stimulus measures, therefore, is small.
It is more realistic that, in order to boost short-term economic performance, they will resort to more specific measures such as targeted reserve requirement ratio cuts for banks and increases in investment in certain sectors,.