Editor's Note: With the Mid-Autumn Festival a couple of days away, many of us turn our thoughts to mooncakes and the celebrations that we will have. As thousands of types of mooncake are now available, what are your favorite flavors? Can foreigners really enjoy mooncakes? Let's see our forum readers' answers.
messi30 (US)
I'm sure I will get some mooncakes from my neighbors and Chinese relatives as every year, well, I will try it again.
What I never will understand is the high prices in these cakes. I think people mostly pay for the good and attractive packing than the cakes.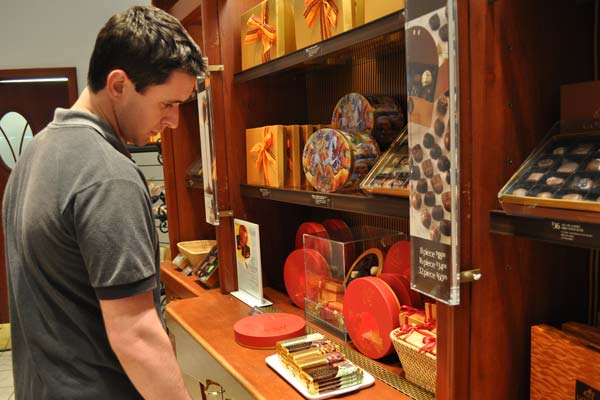 A customer looks at the mooncakes at a Godiva shop in New York, Sept 19, 2013. [Bai Jie/CHINA DAILY ]
The Original piece: http://bbs.chinadaily.com.cn/forum.php?mod=viewthread&tid=894797&highlight=mooncake
http://bbs.chinadaily.com.cn/forum.php?mod=viewthread&tid=894149&highlight=mooncake
http://bbs.chinadaily.com.cn/forum.php?mod=viewthread&tid=191737&highlight=mooncake