Editor's note: English is taught as compulsory course from primary school in China. But should students be required to learn a foreign language? What foreign languages are taught in other countries? Forum readers share their experiences. You are welcome to leave your comments.
SDIvester (US)
I remember the sixth grade, where we took our first foreign language, French. While in High School, we were offered Russian, Spanish, and French, so I took up Spanish. The reason for Spanish was that many living in the States are Hispanic. I feel that if you want to learn another language, start as early as possible. Learning a language in schools just isn't enough. You need to practice it daily.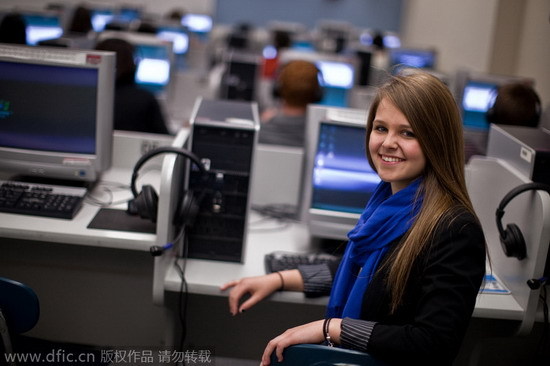 Morgan Lundblad, 18, a senior at Homewood-Flossmoor High School, sits at desk in her Spanish classroom in Flossmoor, Illinois, April 5, 2012. She applied to 12 colleges and got accepted to some, denied by others and is on the wait-listed for Harvard, her dream school.
The original piece: http://bbs.chinadaily.com.cn/thread-903222-5-1.html