Editor's Note: Green living is a lifestyle that helps take care of the earth, and it also means using only what you really need from resources. So how can we live lightly on the earth and save money at the same time? Our forum readers share their own ideas.
SDIvester (US)
I have for the longest time tried to conserve water and energy and have saved money as well as resources in doing so. My water consumption is down over 60% with big time savings on my water bill. Changes to the showerheads and faucets as well as both outdated toilets make a huge difference in the amount of water I use.
Properly insulating my home, and using Energy Star qualified windows have cut back on my gas bill while keeping my home warmer on those cold days in the winter.
My commute to work has been as far as 28 miles one way. I have done it on my bicycle for the past 35 years, even through the winter. Yes, there is some suffering, but I feel good about my attempts to do my part at making the world a happier, cleaner place to live...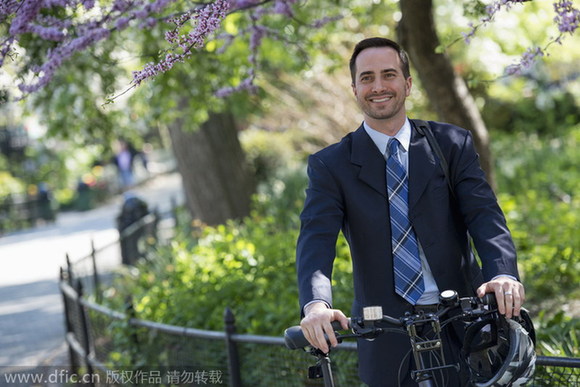 A man in a business suit astride a bicycle with helmet in hand, Sept. 19, 2013.  [Photo/IC]
The original piece: http://bbs.chinadaily.com.cn/thread-1098846-1-1.html