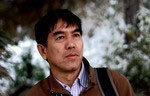 Once upon a time, a man was arrested on the charge of leaking a State secret by claiming in public that the king of the kingdom was an idiot.
If Barack Obama meant it when he said that China has been a free rider, the president of the United States did the same as this man of old; as he was actually telling the world that the US policymakers over the past more than three decades were unwise enough to allow China to get away without paying what it should have paid for its ride to modernity.
The vice versa is also true.
President Obama should have thought twice before he let the phrase "free rider" slip out of his mouth no matter what was on his mind at the time.
How can the world's most populous country be a free rider in its dealings with the rest of the world, especially with the United States, the world's most developed country. Even if China wanted to, the Western world, including the US, would never have let that happen.
The US has long pointed fingers at China for its trade surplus and called China an exchange rate manipulator, although it has turned a blind eye to the huge profits US transnational firms have made on the Chinese mainland that should also be included in the US income from Sino-US trade. This speaks volumes for how the US cares about how much it should get from the trade between the two countries.
Look at the anti-dumping cases the US has launched against Chinese exporters. Look at its long refusal to allow China to purchase its advanced technologies, those involved in military use in particular. It has been nothing but wishful thinking for China to be an easy rider in its cooperation with the US and the Western world at large.
Of course, China never wanted to be a free rider. It would be stupid to cherish such a notion, either for China and its trade partners or cooperators on the other side.
In fact, there has never been such a thing as a free rider in the cooperation between trade partners or economic cooperators. Mutual interest is the absolute principle of the world market.
When China opened its door to the outside world in the late 1970s business people came to invest here. Both sides found in each other things that could meet their demands: China needed technology and the mechanism of a market economy as well as a world market, which it got from the investors of the developed world. Investors from the developed countries needed cheap labor, cheap raw materials and an environment where pollutants could be dumped, which China could provide.