Editor's note: Becoming financially independent can sometimes be both liberating and painful. Generally speaking, young people in China stop relying on their parents for financial support after they land their first job. Was this the case for you? You are welcome to share your stories.
jay_dee (expat in China)
I started working at 12. I had no allowance, plus I had chores to do. I cut grass, cleaned basements and garages and did minor home repairs. I bought my own car at 17, and paid for the insurance and gas. I started paying rent at 18 and bought groceries, cooked for myself.
Working 3 jobs while attending University, I paid for my books and tuition, and commuted daily.
When I was 24 I bought and furnished my first house without any assistance.
I paid the entire bill for my wedding as well.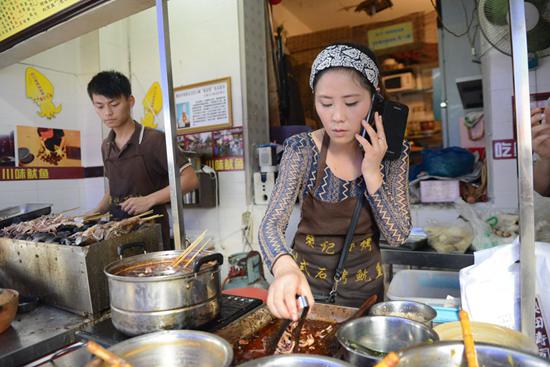 Diao Hanjing talks on the phone at her squid barbecue eatery in Chengdu, Sichuan province, Oct 11, 2013. Diao, a student at University of Electronic Science and Technology of China, became an Internet celebrity following reports she can earn roughly 100,000 yuan ($16,420) a month, an income most college graduates can only dream about. [Photo/Icpress.cn]
The original piece: http://bbs.chinadaily.com.cn/forum.php?mod=viewthread&tid=1018491