seneca (expat in China)
There are many adults that are potentially unfit to raise children; there are many adults that don't like to look after kids. True love for children is as rare as is love between married partners. Therefore it is a sign of growing maturity that people make an educated decision not to have children.
In the past too many children suffered silently while growing up. Parents often put their careers ahead of their own children. If a marital crisis develops, the kids are the ones who feel the most pain. The amount of divorces have been increasing in China.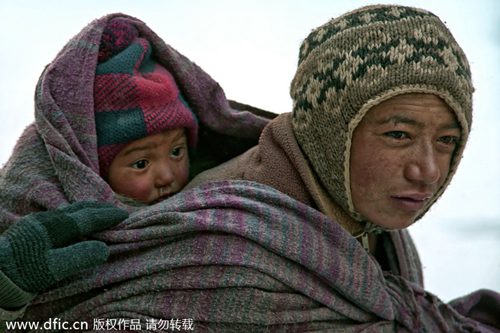 A mother from Ladakh, Northern India struggles home along a frozen river after giving birth 70km away at the nearest hospital.[Photo/IC]
The original piece: http://bbs.chinadaily.com.cn/forum.php?mod=viewthread&tid=1031198
[ChinaDaily online forum offers people from all over the world and all walks of life the opportunity to share their thoughts and feelings. Join us now! BBS:bbs.chinadaily.com.cnBlog:blog.chinadaily.com.cn]