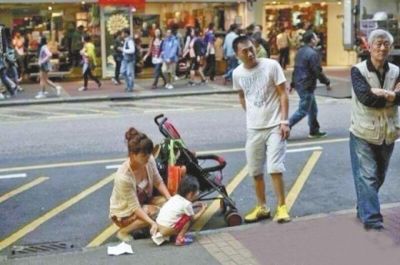 A screenshot from Youku shows the toddler urinating on a street in Hong Kong. 
A mainland couple visiting Hong Kong, finding a long queue at a public toilet, let their toddler relieve himself in public with the mother using a paper nappy to prevent any mess on the street.
A young local man tried to stop them while taking photos of the toddler from close-up. This led to a clash and the mainland couple ended up being arrested.
The mainland couple's behavior was not all appropriate, although a child might be excused when nature calls, but so too was the behavior of the local man in taking improper photos, although this was regrettably ignored by the police and commentators in Hong Kong, including some big media names.
This incident has once again highlighted the mounting tensions between mainlanders and people in the special administrative region, something that poses unnecessary harm to the city.
The number of people from the mainland visiting Hong Kong has soared over the past couple of years as a result of new tourism policies - in 2012, 38 million out of the total 45 million tourists visiting Hong Kong were from the mainland - and the city was not prepared for such a huge number of visitors. It simply does not have the public facilities to deal with such a large influx of people. As a result, some local people feel the growing number of mainland tourists is having a negative effect on their daily lives, and anti-mainland sentiment is on the rise.
Understandably, ordinary people are not aware of the benefits of the growth in tourism after the implementation of the Closer Economic Partnership Arrangement and related policies. Instead, they just see the inconvenience caused by tourists. And some local media have pandered to their disgruntlement by irresponsibly fanning the flames. For example, a Hong Kong-based television journalist said in her micro blog that the mainland mother slapped the face of the Hong Kong man during the dispute, leading to criticism of the mainland couple. But the Hong Kong police later said their investigation did not uphold that accusation.