Hong Kong's housing curbs should remain
Updated: 2014-04-16 06:47
By Fung Keung(HK Edition)
| | | | | | | | | |
| --- | --- | --- | --- | --- | --- | --- | --- | --- |
|   | | Print | | Mail | | Large Medium  Small | 分享按钮 | 0 |
The International Monetary Fund said in mid-April that Hong Kong should withdraw its housing curbs immediately in case there is an even more marked drop in the market. Hong Kong government officials should ignore the IMF's advice.
Hong Kong's property prices are only 5 percent below their all-time high. Even when they drop another 10 or 20 percent, owning a home for the majority of Hong Kong people is beyond their reach. In general, only families with household incomes of HK$60,000 a month can afford to buy a flat. New graduates in the city only earn about HK$$10,000 a month.
Chief Executive (CE) Leung Chun-ying was right in turning a deaf ear to the IMF's appeal. In response to the IMF statement, he reiterated that the property-cooling measures should not be loosened when there are still problems with land supply. Since October 2012, a series of curbs were imposed, including the Buyer's Stamp Duty and Double Stamp Duty.
In his 2013 Policy Address, the CE conceded, "It is all too easy for the government to side-step the housing problem, but it is today's young people who will have to bear the adverse consequences in future."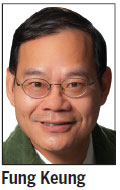 Some experts also concede that the curbs should stay unbroken. Wong Ka-fu, principal lecturer of the University of Hong Kong's School of Economics and Finance, told a local newspaper that curbs should only be taken away if property prices plunge to a level that would hinder economic development. He forecasts home prices will fall by 10-15 percent this year.
A European bank said it expects Hong Kong home prices to drop by at least 30 percent by the end of 2015 compared with levels at the end of 2013. Such a negative view has raised a few eyebrows.
In the reply to the IMF, Leung said the property market was no longer overheated. Cooling measures have dampened demand from overseas investors (many of whom are speculators and money-launderers, according to analysts).
It is all due to a combination of decades-old factors brought about by the scarcity of land, conflict over how much available land will be used for housing versus what is needed for infrastructure and public facilities. This has created market conditions out of reach for most people, especially for young people in their 20s and 30s.
Most of Hong Kong's young people want to live independently. But most cannot in today's Hong Kong. Many live in their parents' homes into their 30s. Buying a home today is beyond most young people. Even renting a place to live can sometimes be too expensive. Market conditions including a shortage of supply have forced up rents, so apartment rentals are exorbitant.
The result is that young people, many of whom have graduated from universities, want to apply for public housing, battling the aged and the poor. About 30 percent of Hong Kong's population live in public housing flats. Another 17 percent live in government-subsidized home ownership units. The housing shortage persists, however.
Analysts believe the red-hot Hong Kong property market resulted partly from money-laundering activities. Dirty and drug money from outside Hong Kong propelled local property prices to very high levels. These launderers simply buy and sell properties within a short period of time. The dirty money after these sales becomes clean money.
Police in Hong Kong said on April 13 that they had received 33,000 reports of suspicious financial transactions in 2013 - up 40 percent from a year earlier. The value of assets frozen by Hong Kong police in money-laundering investigations rose 14 percent to HK$873 million compared with HK$768 million in 2012.
Property curbs shouldn't be relaxed. What the government really needs to do is to increase land supply and dampen speculation.
The author is coordinator of the B.S.Sc in financial journalism program at Hong Kong Baptist University.
(HK Edition 04/16/2014 page9)