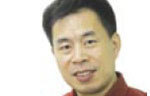 During his three-day visit to Japan from April 23 to 25, US President Barack Obama seems to be focusing on the US-Japan security alliance, the Trans-Pacific Partnership negotiations and the trilateral cooperation with Japan and South Korea. What has been missing is him raising a voice of concern over Japanese Prime Minister Shinzo Abe's views on World War II history.
Washington expressed its disappointment over Abe's visit to the Yasukuni Shrine on December 26, describing the action as "exacerbating tensions with Japan's neighbors". And US media, such as The Washington Post and The New York Times, have also repeatedly blasted Abe's historical views.
The Yasukuni Shrine honors 14 Class-A war criminals from WWII and has long been regarded as a symbol of Japanese militarism, which inflicted huge suffering on countries such as China, the Republic of Korea and the Democratic People's Republic of Korea, the Philippines and several other Asian nations.
To many in these countries, Abe's homage to the shrine is like German government leaders visiting a memorial to Adolf Hitler and denying the Holocaust, which, of course, they have never done.
Obama's arrival in Japan came just a day after a Japanese cabinet minister and some 150 lawmakers visited the shrine and two days after Abe made an offering to the shrine.
Whether Obama will publicly voice his concern and objection to such acts during his first trip to Japan as US president, or instead remain silent in order to better advance his other agenda with Japan, such as the Trans-Pacific Partnership talks and the US-Japan security alliance, is being closely watched.
Staying silent is something that Obama should not do because it is a matter of right and wrong, justice and injustice.
The US fought alongside the Chinese against Japanese fascists during WWII, so condoning a whitewash of Japan's war atrocities would be a humiliation to those Chinese and Americans who sacrificed their lives.
Obama's failure to raise the issue will also further anger South Korea, which is also at odds with Japan over historical issues. President Park Geun-hye has repeatedly warned Japan to stop denying the past. The huge setback in relations between Japan and South Korea caused by the row over Japan's denial of historical truths has weakened the so-called US-Japan-South Korea trilateral alliance, which some South Korean foreign policy experts now believe is non-existent.