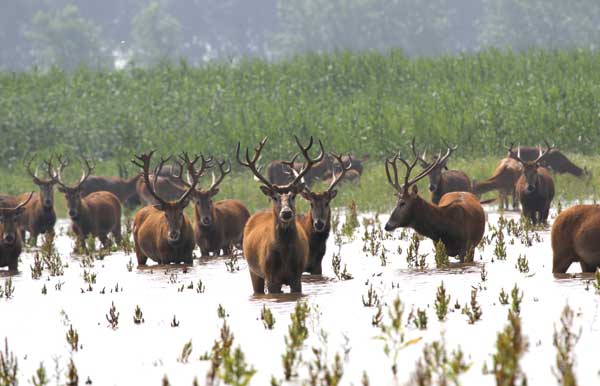 A herd of milu wander around the marshlands in the Tian'ezhou Milu National Nature Reserve in Shishou, Hubei province. Provided to China Daily
The rare milu deer are growing in number, but a battle for space may threaten the future of this fascinating animal. Deng Zhangyu reports.
A herd of Pere David's deer lower their heads to drink water from a mud flat. Always vigilant, they occasionally look around to check for danger. Behind them is a vast land of reeds where they like to hide. Pheasants duck in and out of the reeds and wild geese take to the skies. This is the Tian'ezhou Milu National Nature Reserve in Shishou, Hubei province. Surrounding the reserve are miles of farmland dotted with cottages, but in the reserve, animals and nature run wild. There are 1,061 milu - the Chinese name for the deer unique to the country - in the reserve. It's the largest wild herd in China and in the world, all descendents of the 94 deer shipped from Beijing's Milu Park in the 1990s.
"Our mission is to help the milu return to the wild. After years of efforts, we've made big progress," says Li Pengfei, director of the research department at the reserve.
A century ago, milu, known as Pere David's deer in the West, were said to no longer live wild in China. There were only 18 of the animals living in China in 1898. The shortage was the result of European zoos' desire to collect exotic animals. In 1986, 22 milu were reintroduced to Beijing's Milu Park and another 39 were later shipped to Dafeng in Jiangsu province from Britain.
Milu in Beijing and Dafeng, says Li, are semi-wild, meaning they are fed by people. But staff in Tian'ezhou seldom feed the deer, except when the area is hit by snowstorms or drought. Tian'ezhou milu reserve is not open to the public. Only staff or experts conducting research are allowed to visit the wetlands, says Cai Jiaqi, director of the public education department of the reserve.
For more Eco China,
here