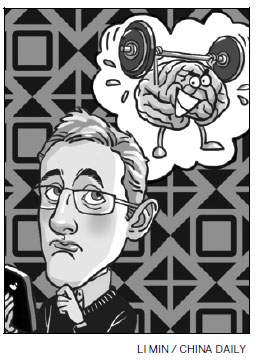 I think my iPhone has destroyed my brain. I really do. I used to listen in meetings; now I browse the Internet. I don't text people using proper sentences anymore; I use ugly contractions such as "def" or "prob", and that's when I'm not resorting to smiley faces and winks.
I've had entire conversations in emoticons.
When did mobile devices, with all their early brain-training promise, become so dangerously addictive?
My arrival in China coincided with the early days of smartphones, and I remember constantly chiding any friends who dared check the Internet while I was talking to them - or even if I was simply present.
I've shared a cinema with someone who, having grown bored of the movie they had paid to see, began watching a different one on their iPhone, sans earphones. It took all the mental strength I had, not to reach over, grab it from their hands and thrown the device at the screen.
The worst scaldings I reserved for people who checked their phones at the dinner table.
Slowly but surely, though, I have become what I loathe the most: A smartphone bore, the kind of person who will bury themselves in the news or e-mails or Twitter or Sina Weibo rather than talk to the people they are with.
For a long time, I refused to buy into the cult of mobile technology, particularly Apple. Ask most of my colleagues and they will tell you how vociferous I once was about Apple products being a big pile of rubbish. And now I'm actually contemplating buying an iPad Mini.
But am I an addict?
For more Hot Pot Column ,click here